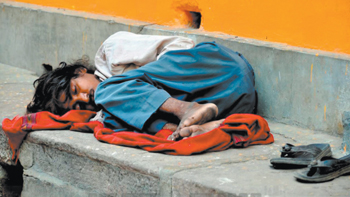 Fayetteville City Council is considering spending nearly $4 million on a facility to help the homeless. The money is available to the city in state grant funds. City Council invited officials of Raleigh's Oak City Cares to make a presentation at a recent public meeting. Oak City Cares is an organization that bills itself as a multiservice agency that provides a day center and services to help the homeless.

The "concept is to coordinate rather than compete with other agencies," said Oak City Cares Executive Director Kathryn Johnson.

Wake County provided $7 million, and the city of Raleigh gave $3.4 million for the multipurpose center in downtown Raleigh, according to Rick Miller, retired regional director of Catholic Charities of the Diocese of Raleigh, which operates the facility.

Wake County provided an old warehouse as a shell building for the center. Catholic Charities employees operate the facility, which raised $2.5 million in a private fundraising effort. The funds are paying the nonprofit agency's share of operating costs for the first few years and provide $400,000 in reserve funds, Johnson told Council.

Local Fayetteville agencies that serve the homeless insist a multimillion-dollar complex would be a waste of money since the services offered by such a facility are already available in the community. Fayetteville's Operation Inasmuch has many of the programs and facilities provided by Oak City Cares. FOI's website says its 40-bed lodge has led more than 200 men to get jobs, assisted over 100 men to find stable housing, provided individualized case management, offered job search and interview training and reduced the homeless population. Just as Oak City Cares does, the Operation Inasmuch lodge provides shower facilities, laundry services and computer access.

Unlike the capital city area where city and county governments worked together, Cumberland County Commissioners have said they have no interest in joining the city in a multipurpose center for the homeless. Other groups are also active in Fayetteville in meeting the needs of people living on the streets. Street people who live a public, transient lifestyle on the streets of a city are among the homeless and are often mentally ill. Organizations here that serve the homeless agree the city should focus on job creation and providing affordable housing.

City Council also heard from the director of Communities in Communities, which builds and leases tiny homes for those in need. It's a Greensboro-based company that replaces vacant and blighted properties in the Triad with small houses of 500 to 1,000 square feet. Scott Jones outlined cottage communities in pocket neighborhoods that have been developed in High Point and Greensboro with a new development underway in Winston-Salem. "They are designed to serve the needs of the chronic homeless," Jones said. "The idea is to replace tent-living with small homes that are practical and affordable."

Rent is subsidized based on the occupants' earnings. City officials took no action on the proposals and did not schedule a subsequent meeting.