A new bridge that carries N.C. 59 over I-95 Business in Hope Mills has been opened by the state Division of Highways. Traffic was also shifted onto a rebuilt ramp from I-95 Business southbound to N.C. 59 at the new bridge. Two northbound lanes were closed to allow improvements at the interchange.

A detour has been marked. The ramps will be elevated to match the new bridge, and the drainage systems will be improved. The new bridge currently is in a two-lane pattern until the contractor can finishing widening portions of N.C. 59 on either side of it by this fall. When that work is completed, all five lanes of the new bridge will be opened. DOT
says the northbound ramps will reopen in two-to-three months.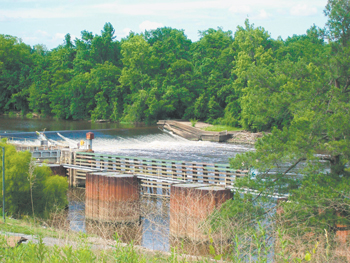 River Locks and dams ownership changing

The N.C. Department of Environmental Quality is providing the federal government notice that it wishes to obtain ownership of three locks and dams on the Cape Fear River between Fayetteville and Wilmington. The state plans to send an official letter of intent by Feb. 28. The decision recognizes there is no federal interest in maintaining and operating the locks and dams and allows the state to acquire them. The three locks and dams were originally built in the early 1900s for commercial navigation but have not been used for that purpose since 1995.

"The state of North Carolina recognizes the importance of maintaining the locks and dams for flood control and resiliency, to protect water quality, water supply, fish passage, aquatic habitat and recreational opportunities in the Cape Fear River," said Department of Environmental Quality Secretary Michael S. Regan. "State ownership ensures that all stakeholder interests are represented moving forward."

DEQ staff held several meetings with federal, state and local officials since April of 2019 to ensure all interests and concerns were addressed should the state take over the locks and dams. When the U.S. Army Corps of Engineers receives the letter of intent, Congress must decide whether to de-authorize the locks and dams. State officials estimate the real estate transaction process will take two to five years.


Pone elevated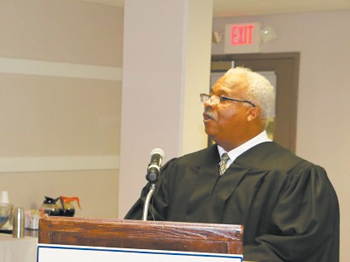 Cumberland County Judge Ed Pone is the county's first African American Chief District Court judge. N.C. Supreme Court Chief Justice Cheri Beasley announced Pone's appointment last month. He succeeds Chief Judge Robert Stiehl, who retired Feb. 1. The chief judge administrates court functions and assigns the county's 10 district court judges to the various courts. Pone is a certified juvenile court judge and has presided in family court for many years. He also is the presiding judge of Cumberland County's Family Drug Treatment Court and the Misdemeanor Diversion Program. Pone was appointed to the bench by Gov. Jim Hunt in 1996 and has won election every four years since then. He is unopposed this year. Chief Justice Beasley is a former colleague of Pone's, having served on the Cumberland County District Court before being appointed to the state court of appeals and eventually elevated to the supreme court. Cumberland County has 10 District Court judges.


New school principal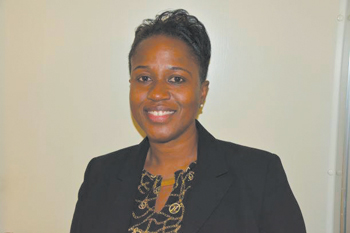 Following the recommendation of Superintendent Dr. Marvin Connelly, Jr., the Cumberland County Board of Education has approved a new elementary school principal. Corine O. B. Warren, who is currently an assistant principal at Spring Lake Middle School, will serve as principal of Benjamin Martin Elementary School.
"It is with a strong commitment that I am joining the Benjamin J. Martin Elementary School family," said the long-time educator. "I am looking forward to leading and learning — academically, socially and emotionally — together as a community." Warren has served as an assistant principal in the Cumberland, Robeson and Gwinnett (Georgia) County schools since 2014. Her career in education spans nearly 25 years and includes work as an elementary teacher, a trainer for the North Carolina Teacher Academy and media coordinator.


D.S.S. employment opportunities

Employers are invited to participate in the 21st Annual Cumberland County Department of Social Services March to Work Job Fair Mar. 18 from 9 a.m. to 2 p.m. at the Charlie Rose Agri-Expo Center. Businesses with job openings are invited to register to participate at no charge. Employers will be provided with booths at the fair that include tables and chairs. The job fair attracts thousands of job seekers with a wide range of skill levels from those who are professional or highly technical, to those who are unskilled.

"This is a great opportunity for businesses to find qualified employees," said Toni Wright-Harris, job fair coordinator. Business representatives will be able to talk about employment opportunities for potential employees. Information is available online at Cumberland County DSS March to Work. If you have questions, call or email Toni Wright-Harris at 910-677-2151 by March 10.