Cumberland County Commissioners have approved a significant adjustment in the wages of sheriff's deputies and detention officers. They appropriated $354,233 to provide market adjustments to entry-level law enforcement salaries for the remainder of the fiscal year beginning March 1. A statewide study showed Cumberland County entry-level law enforcement wages were 10% lower than comparable counties, while average pay was 16% lower.

The turnover rate for jailers at the detention center resulted in a vacancy rate of 45%, according to County Manager Amy Cannon. "We have continued to struggle and have challenges with employee recruitment and retention," Cannon said.

Pay for entry-level detention officers will increase by $2,300 to $36,500. The entry-level wage for a sworn deputy sheriff will increase by $1,750 to $39,237. This increase applies to all department classifications, excluding the rank of captain and above.

"We believe this is a step in the right direction in the process to begin impacting positively our recruitment and retention." Cannon said.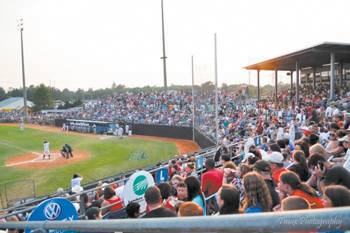 J.P. Riddle Stadium renovated

Fayetteville Technical Community College's 2020 baseball season will begin Feb. 29 at the newly revamped Trojan Field at J.P. Riddle Stadium, 2823 Legion Rd., with a doubleheader between Fayetteville Tech and Paul D. Camp Community College of Suffolk, Virginia. The Cumberland County Board of Commissioners gifted the stadium to the College two years ago. The men's baseball teams of FTCC and Freedom Christian Academy will join the Fayetteville Swamp Dogs in utilizing the field and stadium.
"We thank the Cumberland County Commissioners for this opportunity to be associated with the J.P. Riddle Stadium and to continue the Riddle family's intent to share this asset with the citizens of Cumberland County," said Dr. Larry Keen, FTCC president. FTCC's ownership of J.P. Riddle Stadium provides educational opportunities for staff, faculty and students representing various academic program areas to support of FTCC events, Keen added.


PetSmart Charities makes local donation

Cumberland County Animal Control has been awarded a $30,000 grant by PetSmart Charities to support the adoption of cats and large breed dogs. The funds will be used to pay for spaying and neutering nearly 500 dogs and cats. That will allow the shelter to reduce adoption fee to $28 for selected animals and save more animals, Animal Control Director Elaine Smith said. "We are so excited to receive this grant so that we can really help our harder to adopt ... older pets, pets with treatable health issues and our large dogs in particular," Smith said.

The Animal Control adoption fee includes a pet's rabies vaccination, privilege license, microchip and spaying or neutering by a local veterinarian. For more information about adopting a pet from the Animal Control Shelter, call 910-321-6852, or to see all the animals available for adoption, visit http://bit.ly/CCAdoptablePets.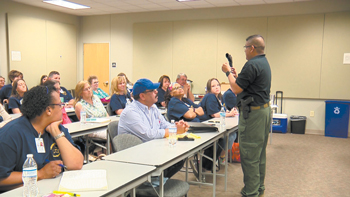 Citizens Academy

The next Fayetteville Citizens Academy class will be held Wednesday, March 11, with a focus on several divisions of Fayetteville's Public Services Department, including Traffic Services, Street Maintenance, Stormwater and Solid Waste. Academy participants will have an opportunity to engage in hands-on learning, view equipment, tour facilities and meet city personnel tasked with serving the community. The class size is limited to 25 residents. Class begins at 8:15 a.m. and will conclude at or before 5 p.m. To apply, log on to www.fayettevillenc.gov/citizensacademy, scroll to the bottom of the page and complete the form online. The submission window for this session closes March 2. Applicants will be notified of their acceptance by close of business Friday, March 6. "Our one-day Citizens Academy event gives residents an opportunity to see City of Fayetteville staff in their element, doing what they do every day to support and serve our citizens," said Corporate Communications Director Kevin V. Arata.
Lunch will be provided, and residents are asked to dress appropriately for the weather and in closed-toe footwear.


Build a Better Murchison

Planners are in the home stretch of a special Fayetteville event. The Longleaf Pine Realtors Association is using a $5,000 grant from the National Association of Realtors to stage the Build a Better Murchison project March 7. It's a block party that will take place from 12-5 p.m. at and around Seabrook Auditorium and Bronco Plaza. This temporary demonstration project will add new crosswalks, a greenery-lined median and a two-way bicycle track. The event will feature live music and other entertainment plus food vendors and artists.

Eric Vitale, a transportation planner with the Fayetteville Area Metropolitan Planning Organization, said, "There could end up being more people attending this event than another one held in Haymount in June 2018."

The vendor registration deadline is Tuesday, March 3, at 5 p.m. Meetings for volunteers and interested vendors are scheduled March 3, 4 and 5. Visit the website if you want to learn more www.betterblockfaync.com.