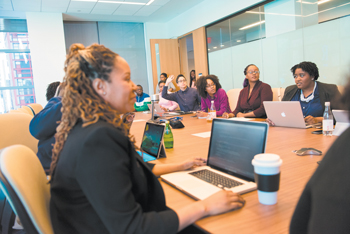 The city of Fayetteville's Economic and Community Development Department has an idea to encourage residents to get involved in local government. Community Voices is a training program designed to empower residents to become leaders in their communities. The program is cosponsored by North Carolina A&T State University's Cooperative Extension Program and N.C. State University's cooperative extension program. The local program takes place Thursday, March 26, from 6-8 p.m. at the Arts Council headquarters on Hay Street.

Participants will learn how a group can make a difference working together and how to connect to resources that can help reach a shared vision. They will also learn about systematic problem-solving methods to help address community issues and needs. The city says the project is an effort to help community citizens come together to build the future for their families and the community. The main goal is to develop skilled groups of leaders who can work together, problem solve and work as partners with resource people to carry out initiatives that will meet the needs and concerns of their community.

Fayetteville City Councilwoman Tisha Waddell has become an advocate for citizens working together, often imploring residents who attend council meetings to get involved. Her vision as shown in her official biography "is one of inclusion for all citizens, working together toward safe, productive neighborhoods with support resources for both seniors and youth alike."

City council and county commission members will concede nothing gets their collective attention more than groups of residents who turn out at official meetings to advocate for their neighborhoods.

A recent controversy over a proposed prison inmate re-entry halfway house resulted in several dozen citizens showing up at a public meeting objecting to the plan. Observers believed city officials would table the proposal because of the public concern. Surprisingly, the city council decided to deny the project. The Community Voices concept is not a new one, but it is new to the Fayetteville area. It is designed to develop leaders at the grassroots level by encouraging uninvolved citizens and organizations to develop skills to solve problems in their communities. Participants can expect to develop an underlying philosophy and belief that the group can make a difference if members work together and have a shared vision of what they want to achieve as a group.

Participants will learn about systematic problem-solving methods to help members address community issues and needs and develop an organizational structure to continue working on the group vision. They will develop skills to structure group organizations to continue working together as a community on the municipal and county levels after the training is completed. They will engage in a series of learning experiences and then analyze those experiences to see how they apply to life situations. Community Voices and its companion program, Voices Reaching Vision, were created by Cooperative Extension at N.C. A&T with a grant from the W.K. Kellogg Foundation.