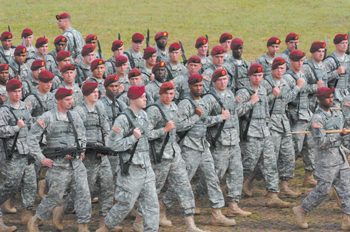 The U.S. has begun bringing troops home from Afghanistan. The plan is to reduce the U.S. troop presence to 8,600 within 135 days from March 1, Defense Secretary Mark Esper said.

The 82nd Airborne Division's 3rd Brigade Combat Team deployed to Afghanistan last summer. We were "eager and ready to work alongside our Afghan and coalition partners toward mission success in support of Operation Freedom's Sentinel," said Col. Art Sellers, commander of the 3rd Brigade.

Esper directed Army Gen. Austin Scott Miller, commander of U.S. forces in Afghanistan, "to get moving" on drawing down U.S. forces from about 12,000 to 8,600 under the U.S.-Taliban peace accord.

Joint Chiefs Chairman Gen. Mark Milley cautioned that the U.S.-Taliban agreement does not guarantee that "there's going to be an absolute cessation of violence. To think it's going to go to zero immediately — that is not going to be the case." Milley added that the redeployment is an important step toward the eventual full withdrawal of U.S. forces, possibly within 14 months.

The U.S. will be watching the actions of the Taliban closely to verify their commitment to the peace deal, Esper said.


Fayetteville leader under investigation


The U.S. Veterans Affairs Department's inspector general has opened an investigation into allegations that Secretary Robert Wilkie tried to dig up dirt on an aide to a Congressman after she said she had been sexually assaulted at the VA's Washington hospital. Wilkie is a Fayetteville native who grew up here.


Inspector General Michael Missal told lawmakers on Capitol Hill that he has decided to conduct a full inquiry following a preliminary review of Wilkie's conduct last fall. "This matter is a high priority for our office," Missal wrote in letters to House Veterans Affairs Committee Chairman Mark Takano, D-Calif., and six senators led by Patty Murray, D-Wash., who joined the chairman in demanding an investigation.

Wilkie has denied making inquiries about the woman, Andrea Goldstein. She serves as Takano's senior policy adviser on female veteran issues. She is also an intelligence officer in the Navy Reserve, as Wilkie once was.

Takano's staff received information this month from a senior VA official that Wilkie worked to discredit Goldstein's credibility after she reported that a man groped and propositioned her in the main lobby of the agency's District of Columbia Medical Center. The American Legion, one of the largest veteran groups, took the unusual step of calling for an investigation into the Wilkie allegations, saying they "bring into question the ethical suitability of the leadership at VA's highest levels."


Rabies vaccines available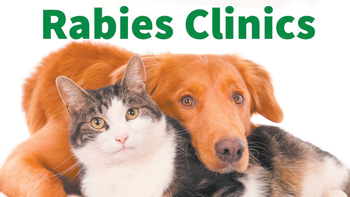 From March 24 until April 16, rabies vaccination clinics for dogs and cats will be held Tuesdays and Thursdays from 4 to 6 p.m. Fourteen clinics at various local sites throughout the county are scheduled. The cost is $10 per animal. North Carolina law requires that the owner of every dog and cat over four months of age shall have the animal vaccinated against rabies.

In Cumberland County, the owners of dogs and cats that have not been vaccinated are subject to a civil penalty of $100. To remain immunized, a dog or cat must receive two rabies vaccinations one year apart, then one vaccination every three years after that. "Keeping your pets up to date on their rabies vaccinations will prevent them from acquiring the disease from wildlife and thereby prevent possible transmission to your family or other people," said Environmental Health Director Adrian Jones.

For information on rabies site locations, call the Environmental Health Division of the Cumberland County Public Health Department at 910-433-3600 or Animal Control at 910-321-6852.


Emergency field exercise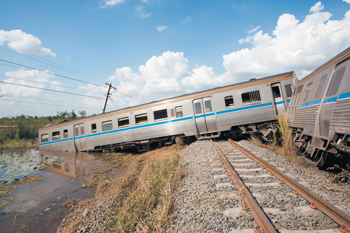 Cumberland County Emergency Services will take part in a disaster preparedness exercise with other local agencies March 11 at the Cargill plant, located at 1754 River Rd. in Eastover. The exercise will center on a staged transportation-related hazardous materials incident and involve emergency responders who will be evaluated during the exercise. The goal is to better prepare for potential incidents that could pose a threat to the community.

"It's about getting better and being as prepared as possible for anything that can occur on a moment's notice," said Gene Booth, Cumberland County emergency services director. "We appreciate the opportunity to be able to offer this real-world training scenario to these responders and to evaluate what we did and make improvements where we find the opportunity to do so."

The exercise will take place from 9 a.m. to noon and is funded by a hazardous materials emergency preparedness grant. Cumberland County applied for the grant through its Local Emergency Planning Committee. In addition to Cumberland County Emergency Services, agencies involved include the Fayetteville Fire Department, Regional Response Team #3; Cape Fear Valley Health System; Hepaco, Eastover Fire Department; and Fort Bragg Chemical, Biological, Radiological, Nuclear, and Explosives team.

Mid-Carolina Senior Games


Talented athletes and artists, 50 years of age and older are invited to participate in the 34th annual Mid-Carolina Senior Games for fun, fellowship and fitness. March 18 is the registration deadline. To register, call Tracy Honeycutt at 910-321-4191, extension 27, or email thoneycutt@mccog.org.

Athletic contests include basketball, softball toss, badminton, table tennis, bowling, bocce, discus, shuffleboard and many more. Nonathletic silver arts events include painting, drawing, photography, sewing, needlework, woodwork, essay writing and poetry. Volunteers also are needed to help at the games.