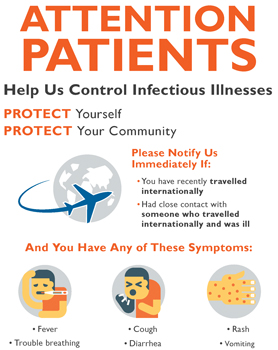 Cape Fear Valley Health System has implemented visitor restrictions to prevent the spread of flu and other respiratory illnesses. Patients in isolation are allowed only one visitor. These patients are identified by signs and blue bags on their doors, which contain personal protective equipment. No restrictions have been implemented for other patients. However, the health system strongly recommends that all patients limit the number of visitors during their stay to reduce everyone's chances of getting sick.
Patients and visitors should use hand sanitizer or wash their hands frequently with soap and water for 20 seconds to prevent the spread of germs and disease. Hospital staff can instruct visitors on proper handwashing hygiene. These changes are being implemented because of growing concerns over SARS-CoV-2, the virus that causes COVID-19, commonly known as coronavirus. Common symptoms include cough, fever and shortness of breath. There have been no confirmed cases in Cumberland County, but Gov. Roy Cooper has imposed a state of emergency because at least seven North Carolinians have contracted COVID-19.
People experiencing symptoms and have visited China, Iran, Italy, Japan or South Korea within the past three weeks should visit their doctors. They should call ahead before visiting or going to the emergency department or urgent care. When calling, they should describe their symptoms and recent travel history. The North Carolina Division of Public Health has established a hotline to address general questions about coronavirus. The number is 1-866-462-3821. To learn more about the coronavirus, visit https://www.cdc.gov/coronavirus/2019-ncov/index.html.
The city of Fayetteville encourages residents to monitor its website, social media channels and the news media for updates on city programs and services. The Cumberland County Health Department's information on COVID-19 is available at co.cumberland.nc.us/covid19. Questions and patient feedback are always welcome at Cape Fear Valley Health System via email at info@capefearvalley.com. Officials recommend that urgent matters be taken up with your physician. Do not hesitate to call 911 to report an emergency. If you are unsure if the matter is urgent, residents can call the CareLink hotline at 910-615-LINK, extension 5465 to speak with a Registered Nurse.

For the military
Personal health services are available for post-9/11 veterans and the families of active duty service members, National Guardsmen, Reservists and their spouses or partners, children, parents, siblings, caregivers and others. The Steven A. Cohen Military Family Clinic at Cape Fear Valley provides confidential, high-quality behavioral healthcare services and case management resources at low or no-cost and without long waiting times. The clinic provides personalized and evidence-based care to strengthen mental health outcomes and complement existing support. The Steven A. Cohen Military Family Clinic at Cape Fear Valley is committed to an improved quality of life for military families and veterans. Eligibility for service is available regardless of discharge status, role while in uniform or combat experience. Insurance is not required. The Steven A. Cohen Military Family Clinic is part of Cohen Veterans Network. The Cohen Veterans Network's mission is to remove barriers to care for the military and veteran community.