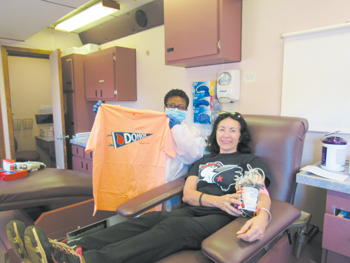 A shortage of blood is nothing new at Fayetteville's Blood Donor Center. About 900 donors provide blood supplies for Cape Fear Valley Health System in a good month.
"We transfuse 1,100 units of blood a month," said Marketing and Outreach Coordinator Lindsey Graham. "The past year has been one of the most critical years ever."

For the first time in Graham's 12 years at the blood donor center, Cape Fear Valley hospitals have had to cancel elective surgery because of the blood shortage. Graham said the COVID-19 pandemic has contributed to the shortage.

The Cape Fear Valley Blood Donor Center is a community program that serves the needs of patients at the health system's hospitals in Cumberland, Hoke and Bladen counties through blood donations by individual donors, community organizations and businesses. With public school out for an indeterminant period, there will be even fewer donations.

"High school students provide half the blood supply," Graham said. They are the most reliable providers in our community, she added. Graham is at a loss to understand why, in a major military community, there isn't more donor enthusiasm because, Graham said, "The need is great."

O negative is the most common blood type used for transfusions when a patient's blood type is unknown, making it the universal blood type. And, it is the safest blood for transfusions for immune-deficient newborn babies. Because of its versatility for transfusions, it is in high demand. In an emergency, it is the blood product of choice. O negative is the first blood supply to run out during a shortage, and that is the case locally, according to Graham.

Since the community requires a continuous, safe blood supply, the Blood Donor Center encourages donors to give on a regular basis. Donors are eligible to donate whole blood every eight weeks. "Each donation can save up to three lives," Graham noted.

Blood is a living tissue circulating throughout the human body and is comprised of red blood cells, white blood cells, platelets and plasma. It is most often collected as whole blood and separated into major components before transfusions. In the U.S., the collection, testing, preparation, storage and transportation of blood and blood components is governed by Food and Drug Administration regulations.

The Cape Fear Valley Blood Donor Center is located at 3357 Village Dr. It is always open for donations Monday through Friday from 9 a.m. to 5 p.m., and the third Saturday of each month from 9 a.m. to 3 p.m. As members of the Blood Assurance Plan, donors can build blood credits. Each donation equals one blood credit that may be kept by the donor or transferred to a family member or friend in need. Blood credits may be used to replace blood or platelet unit charges for patients of the Cape Fear Valley Health System.

Bloodmobile drives are scheduled for Saturday, April 18, 1-4 p.m., at Bright Light Brewing Company at 444 W. Russell St.; Wednesday, April 22, 10 a.m.-1 p.m., at Chick-fil-A, 4611 Ramsey St.; and Saturday, April 25, 11 a.m.-1 p.m., at Fort Wagg Pet Supplies, 2672 Highway 24-87 in Cameron.