Near the end of March, many local business owners were confident about 2020. Sales were up, and customer engagement was strong. Then, like a punch to the throat during a seedy roadhouse brawl, COVID-19 swept in, and everything changed. With their backs to the wall, everything to lose and no sign of a rescuer, entrepreneurs did what they do best. They took a deep breath and stepped up to face the challenge with creativity and optimism, pouring every bit of themselves into their businesses and the community. They found new opportunities and innovative ways to serve their customers. Here is how a few local businesses are handling the COVID-19 crisis.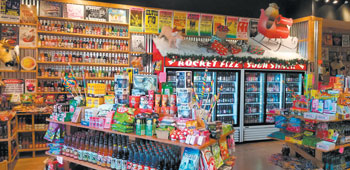 Rocket Fizz

Rocket Fizz Soda Pop and Candy Shop opened four-and-a-half years ago, bringing whimsy and nostalgia to Fayetteville's very first novelty candy store. Although it is a franchise, owners Kyle and Ann Sims and Ineke Morris created an old-timey candy store atmosphere with friendly, neighborly customer service, making every visit to their store a personal and memorable experience. Carrying candies from around the world and bygone eras, as well as more than 500 flavors of soda pop ranging from traditional to off-the-wall flavors like bacon, Rocket Fizz also stocks gifts, toys, movie posters and much more. They sell cool things, yummy things, things you can't find anywhere else.
When the stay-at-home orders were imposed, the trio knew their operation had to change to keep the business viable. Rocket Fizz is classified as a grocery store, so its doors have stayed open. Their first survival tactic was to apply for the government's PPP stimulus grant. The second was to contact the Rocket Fizz franchisor and the shopping center landlord to negotiate the fees and rent for the duration of the crisis. Both were successful.

The stimulus money from the government helped, but their location in the Marketfair Mall on Skibo Road remains a challenge. "The bulk of our business came from the movie theater next door." Kyle said.

And, even though the second phase of the "recovery" is underway, there is no telling when the movie theater will reopen, if ever. So, to create additional revenue streams, they implemented free delivery service and promoted online ordering. They added Shopify to their website to make online purchasing easier. They even supplemented sales by using their portable concession trailer. "We bought the concession trailer hoping to create another revenue stream," said Ann. "It was meant for events like the Dogwood Festival and the like."

The Easter holiday was a Godsend for Rocket Fizz. Specialty themed Easter baskets and gift packages were a popular item and online favorite with customers. "We have made so many Easter baskets this year," said Morris. "We had lots of orders over the phone, and we personalized every basket. People were so happy they found a place where they could get a basket for their kids. The fact that it was a rewarding sales week made us so happy."

While keeping their small business afloat, they continue to reach out to the community and help others where they can. "We have donated products to local first responders, health care workers at Cape Fear Valley Health System and the VA Hospital, and most recently, to both the Fayetteville City Police Dept. and County Sheriff's Dept. in recognition of National Police Appreciation Week," said Morris, adding that, "Ann and I love this place. We will do anything to keep this business going. It's heartbreaking, but we aren't going to give up."

Reach out to Rocket Fizz at 910-867-6032.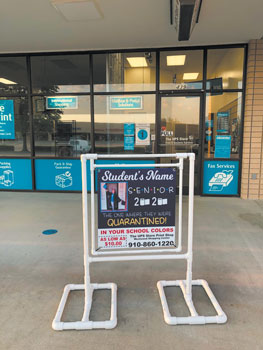 The UPS Store

When you see a line of people three-and-a-half city blocks long waiting patiently, you might think they are in line to purchase Jimmy Buffet concert tickets. They are not. They are patiently waiting to pack, ship, print or mail something through the UPS Store in Westwood Shopping Center, owned and managed by Steve Milburn and his wife Debbie.

The Governor's stay-at-home mandate has stimulated online consumer purchasing, which has increased the store's foot traffic tremendously. Online purchases are shipped to the UPS Store where customers who have mailboxes can retrieve them. Very lenient and generously return policies also accompany online purchases. Together, they create a constant flow of traffic through the store.

"We processed 15,000 dropoffs (returns) for Amazon last month, generating between 12,000-15,000 people through our doors," said Steve.

Debbie Milburn serves as a welcoming and conscientious "safety officer" and traffic manager for the company. To her credit, she has sidewalk disks marking off 6-foot sections from their front door to the Dairy Queen. She screens the customers and allows them to do the paperwork while waiting in line. She only allows four people in the store at one time — and at the appropriate distance. Social distancing, face masks, hand sanitizer, gloves and Plexiglas shields are all a part of keeping UPS Store customers safe.

Steve and Debbie opened the Westwood UPS Store in a 1,500-square-foot storefront in 1996. Now, they occupy a 4,800-square-foot mega-store with an additional store at Fort Bragg.

As an essential business, the Milburns have been able to keep all their employees working. They have even hired some new staff to help keep up with the extra workflow. The Milburn staff produces the area's much-needed social distancing signs, floor stickers, floor coverings and protective vinyl guards used on counters and at cash registers throughout the community. They do all of this in addition to their regular services of providing mailboxes, shipping and mailing services, document shredding, notary services, computer access, engraving, laminating and printing services from business cards to menus to large, corporate commercial signs, all while looking out for their customers.
Steve noted, "We make sure our prices are the best. I know people are hurting. We offer many programs and discounts. We are all in this terrible crisis together; if there is a need, we'll figure out a way to fill it."

The Milburns also donate generously to many local community civic and health organizations, schools and arts and cultural programs.
Contact the UPS store at 910-860-1220.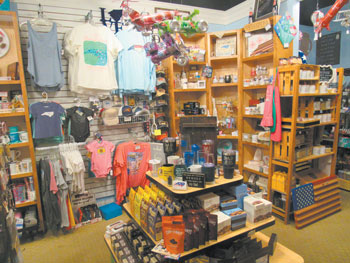 A Bit of Carolina

Robin Matthews' unique shop, A Bit of Carolina, located in downtown Fayetteville, has become a favorite destination for many in Cumberland County. It is truly a celebration of North Carolina, Southern history, traditions and hospitality.

A Bit of Carolina is a unique specialty shop carrying native North Carolina foods and gifts as well as North Carolina and Fayetteville-specific apparel, accessories, home décor and much more. Additionally, Matthews supports other local businesses by using 80 local vendors to help stock her shelves. Robin Matthews boasts that most of the items sold in her store come from within 30 miles of Fayetteville.

A Bit of Carolina is an "essential business" since it stocks honey and other food items like elderberry syrup — a natural cold and flu remedy.

Additionally, three different vendors at the shop have produced a combined 2,000 masks to sell to the public. "They are affordable, and we have several varieties for people to choose from. We have such talented people here," said Matthews.

She was open for business, but had to rethink how she did business. "We had to change," she said. "There were not as many people coming in, so we amped up our social media. It started with Easter baskets … now we do delivery in the city, and we offer shipping."

Social media and networking seemed to revitalize her business. "People call and say, 'I need a gift for x,y,z. This is how much I want to spend.' We give them ideas for themes and help them come up with creative gifts." Matthews said.

Curbside pickup has also become popular in downtown Fayetteville. "A lot of Facebook groups have members that specifically ask which stores do curbside service and have asked us to keep doing it. A lot of people with young kids can still get out and get what they need. It will also help with parking downtown."

Reach out to A Bit of Carolina at 910-551-6537.

These are only three businesses of the many thousands that are surviving and prospering under these difficult economic conditions. We hope that Fayetteville, North Carolina, America and the world come out of this healthier and stronger, as we all fight to stay alive and open for business.