Harmony at Hope Mills, a local senior living center, is a community-oriented environment that has been in operation since February 2019. It offers assisted living and secured assisted living services to seniors and has met and exceeded the needs of those who benefit from their services.

The company was founded in 2005 by Jim Smith. Under the guidance of Smith and William Holmes, executive vice president of development and construction for Smith Packett Med-Com, it expanded the occupancy and operated The Village at Pheasant Ridge. Through this experience, Smith saw the opportunity to create Harmony Senior Services and seized it, laying the groundwork for what would become the Harmony Communities.

Harmony at Hope Mills came into existence through Smith-Packett contracting a purchase of an existing 80-bed Certificate of Need license and another existing 20-bed CON in 2016.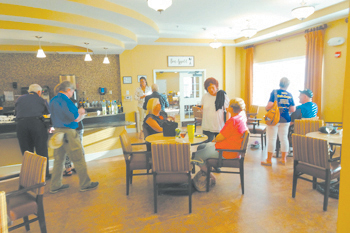 "SP also commenced construction of the community in July of 2017 and obtained a Certificate of Occupancy in September of 2018. Shortly thereafter, Harmony Senior Services opened the community as the operator," said Holmes.

The benefits of living at Harmony are numerous. The parent company of the organization decided to put a location in the Cumberland County area because, according to a demographic study, the location is close to seniors or relatives of seniors and it's a highly desirable location.

Harmony at Hope Mills stands out from other assisted living centers partly by making it easier for the residents to adjust from living on their own to living at Harmony. Even though this can be difficult for some, Armstrong says, "when they tour our community, they experience how bright it is — and clean. Also, all the living spaces in the assisted living neighborhood are apartments ranging from studio to 2-bedroom. It feels very much like independent living."

There are many benefits to to assisted living in comparison to nursing homes. Many of the residents no longer live at home, and the residence helps meet the needs of the residents that would go unfulfilled if they stayed alone. According to Melannie Armstrong, the director of sales and marketing at Harmony at Hope Mills, some of the residents who come to the center were likely not taking meds properly, eating right, having visitors and bathing properly. In addition to helping with these necessities, this retirement community provides memory care services.

In assisted living, residents have more freedom to do activities that they are interested in than they might if they lived in a nursing home or if they lived alone as some activities are less accessible. From afternoons filled with artistic fun to wine and cheese with friends, Harmony offers life's little luxuries for its residents. Additionally, the convenient location of the facility makes favorite locations among locals, like Cape Fear Regional Theatre and Cape Fear Botanical Garden, just a hop, skip and a jump away.

One of the activities at Harmony at Hope Mills that differentiates it from the other retirement communities is the community roundtables they host.

"Until the COVID-19 pandemic, Harmony partnered with the town of Hope Mills and Up & Coming Weekly to host a series of community roundtables at the Harmony complex," Bill Bowman, the organizer of the roundtable discussion, said.

"This event allowed the community to meet with local Hope Mills officials to discuss the important issues of the community while showcasing Harmony's complex and the amenities it offered the community," he explained. "Harmony has definitely established itself as a dedicated supporting business and a refreshing home away from home for many Hope Mills residents."

The benefits of doing these events are that they are great for networking and allow seniors to be immersed in the culture of Hope Mills.

"It's important that our community create alliances and relationships with the businesses and officials of the city," said Armstrong.

According to a 2018 report from the United States Census Bureau, there will be more seniors than children by the year 2035. As America grays, the need for facilities that will deliver on their promises and properly care for seniors, especially those in need of more assistance, is evident. This community does just that.

Harmony at Hope Mills has been in operation since its establishment and continues to serve and cater to the needs of every senior that lives in the assisted living facility within their local community. This retirement community has met and exceeded the needs of those that are benefiting from their services by ensuring that they are comfortable with where they are living along with providing transportation to their medical appointments. This is a community that cares about its residents and has adapted its services to meet its residents' needs. Harmony is a choice that, locally and nationwide, is tried and true.