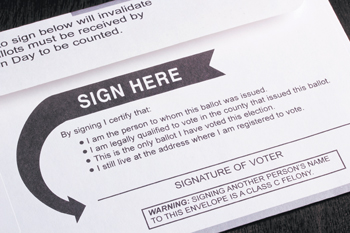 "No special circumstance or reason is needed to vote by mail in North Carolina. All registered voters in North Carolina may request an absentee ballot for the November 2020 general election," the state board of elections says on its website.
Three voting options are always available to registered voters — absentee voting by mail, voting at one-stop early voting sites across the county and Election Day voting at assigned polling places. The state elections board says North Carolina is the first state to send out ballots for the 2020 general election.
The vote-by-mail process was initiated on Sept. 4, two months ahead of Election Day. Ballot requests can be made through an online Absentee Ballot Request Portal. Or voters can fill out absentee ballot requests by mail and turn them in to their county board of elections office.
A voter's absentee ballot request information is not a public record until the ballot is returned or until Election Day. Ballot request information will not appear in voter records through the Voter Search Tool. After a ballot is requested, allow a week to 10 days for it to be sent.
When your ballot is accepted by your county board of elections, that information will be posted in your voter record. Absentee by-mail voting is safe and secure in North Carolina. Officials are encouraging voters to request absentee ballots as soon as possible. The cutoff date is 5 p.m. on Oct. 27.