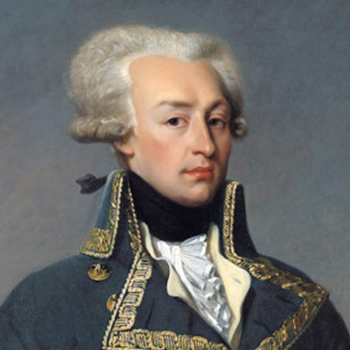 The American Revolutionary War was initiated by the 13 original colonies against the kingdom of Great Britain over their objection of Parliament's direct taxation and the lack of colonial representation. The war of independence was not a brief conflict. It lasted for eight years (1775-1783).
Marie Joseph Paul Yves Roche Gilbert du Motier, Marquis de Lafayette, was born into a family of noble military lineage September 6, 1757, in Chavaniac, France. He was only 20 when he fled his home country during the French Revolution. Lafayette regained prominence as a statesman before his death May 20, 1834. Inspired by stories of the colonists' struggles against British oppression, Lafayette sailed to the newly declared United States in 1777 to join the uprising.
He was initially rebuffed by colonial leaders, but he impressed them with his passion and willingness to serve. He had inherited significant wealth and agreed to serve without pay. In America, he served the Continental Army with distinction, providing tactical leadership while securing vital resources from France. Lafayette was named a major-general in the Continental Army.
His first major combat duty came during the September 1777 Battle of Brandywine, when he was shot in the leg. Gen. George Washington requested doctors to take special care of Lafayette, igniting a strong bond between the two that lasted until Washington's death. More troops fought at Brandywine than any other battle of the American Revolution. It was also the longest single-day battle of the war, with continuous fighting for 11 hours.
Following a winter in Valley Forge with Washington, Lafayette helped draw more French resources to the colonial side. He had travelled to France to press Louis XVI for more aid. Lafayette assumed increased military responsibility upon his return to battle. As commander of the Virginia Continental forces in 1781, he helped keep British General Lord Cornwallis' army pinned at Yorktown, Virginia, while divisions led by Washington and French forces surrounded the British and forced a surrender in the last major battle of the Revolutionary War.
The Lafayette Society of Fayetteville was founded by Martha Duell (1924-2015) in 1981 to raise funds for a statue of Fayetteville's namesake to be erected in Cross Creek Park. The statue was dedicated in 1983 as part of Fayetteville's bicentennial celebration. The organization has funded scholarships for high school and college students and supported the establishment of the Lafayette Room in the Methodist University library. The carriage used by Lafayette during his visit to Fayetteville in 1825 is in the local library.
Some members of the Lafayette Society also belong to the American Friends of Lafayette, an historical and patriotic association dedicated to Lafayette's memory and to the study of his life and times in America and France. The organization was founded at Lafayette College in Easton, Pennsylvania, in 1932. The library at Lafayette College has a collection of over 2,000 items related to Lafayette.