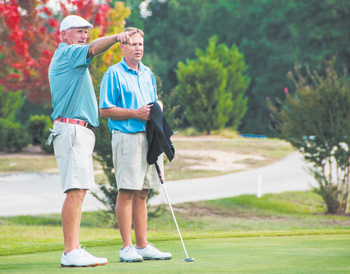 When Billy West is not prosecuting cases as the district attorney of Cumberland County, he is trying to win golf tournaments.
When Gary Robinson is not building houses or working at the golf course he co-owns, he, too, is seeking victories on the links.
West, 46, and Robinson, 61, have been the two best amateur golfers in Cumberland County for decades. They have each won the county golf championship eight times, far more than anyone else.
They will renew their friendly rivalry when the 52nd annual Cumberland County Golf Championship is held Oct. 9-11 at Gates Four Golf & Country Club.
Time would appear to be on West's side to eventually win the most titles since he is 15 years younger than Robinson.
"I hate the fact I'm 61 and he's 40-something," Robinson laughed. "It's not a fair fight. I've enjoyed playing with Billy throughout the years. He's a great competitor and it means as much to him as it does to me. We might both say the proper things but we both want to win more than the other guy. I want to have the most titles and I'm sure he feels the same way. I need to get one or two more because I know Billy is going to."
West shrugs off the age difference.
"Gary is kind of ageless," he said. "He still hits the ball a tremendous long way and the rest of his game is solid. I would love to win this year and break the tie but I'm very aware that Gary may not be finished adding championships either."
Robinson holds the amazing record of winning the county championship in four different decades. He won it the first year he played in the tournament in 1982. He added titles in 1987, '89 and '90.
Then he didn't play in the event again until 2001 and, naturally, won again. He added titles in 2002, '13 and got his last victory in '15. Five of his championships have occurred at Gates Four.
"I have an incentive this year to win in five different decades," Robinson said. "That's a pretty lofty goal. That would be something special. I still feel I can be competitive. I wouldn't play if I didn't think I could win."
West said, "One thing that has made Gary so fantastic is winning titles in four different decades. He certainly has the game to win it in a fifth decade. He is one of the best senior players in the Carolinas."
To reinforce that, Robinson shot 3-under to tie for third place in the Carolinas Senior Amateur Championship early in September.
If West wins this year, it would give him county titles in four different decades, as well. He first played in the event in 1990 and won his first title in 1994 at the age of 19. His other wins came in 1997, 2004, '05, '10 and '11, '17 and '19. He has won five of the last 10 county tournaments including last year with a 7-under total of 209. Twice, he has won back-to-back titles. Three of his wins have come at Gates Four.
He has missed only one county tournament since he started playing in them 30 years ago. That came in 1993 when he was a golfer at N.C. State and he had to play in a collegiate tournament.
"I hate that I missed it," West said. "I regret that kind of broke my streak."
The tournament clearly means a lot to West, who has lived in Cumberland County his whole life.
"For me, this is my favorite tournament," he said. "It's always the one that meant the most to me through the years. If you win it, you are your county's champion for a year."
The tournament is recognized as one of the longest running county golf championships in the state. Its most famous champion is Chip Beck, who went on to a storied career on the PGA Tour. He won in the early years of the tournament in the late 1960s.
"We've always had great players, great champions and a great history," West said. "It's always been the most special tournament to me. It's been the one I've always wanted to win the most. One reason is the tournament has kind of followed me through my golf life. When I won it in 1994, I was a young 19-year-old kid. When I won it last year, I was 45 years old with a wife and two kids."
West holds the distinction of winning the tournament at all four public golf courses in the county where the tournament has been held. Besides the three titles at Gates Four, he has won three times at King's Grant and once each at Baywood and Cypress Lakes.
For West, the tournament is about more than golf. It's about friendships made and the sense of community that he feels by playing in it.
"Life has changed a lot but one thing that hasn't changed is competing every year against the same group of golfers who I became very close friends with," he said. "I really believe it's the premier county championship in the state. It has a special feel to it that other tournaments don't have.
"I often say when I'm in the drug store or the grocery store the week after the county tournament, everybody's going to say, 'Hey, Billy. I saw where you played well or I saw where you came up a little short.' There's not another tournament all year where you get that kind of reaction from the public. A lot of people in the community follow it year to year and that's what makes it special."
Another strong contender is Thomas Owen, who won the title in 2016 and has finished second the last three years. Originally, Owen had decided to skip this year's tournament because a jammed fall golf schedule caused by COVID-19 would have forced him to be away from his family for six straight weekends.
"I just had to pick and choose which ones I'm playing in," he said. "It's just a matter of balancing everything between golf, family and business.
"Coming in second three years in a row leaves a bad taste in your mouth. I need to get back out there and see if I can Billy and Gary a run for their money. I like my chances. I'm playing pretty well, I've just got to make more putts."
Owen has won the county match play championship for the last five years and is ranked among the best players in the Carolinas Golf Association.
West and Robinson know that at some point their stranglehold on the tournament will end and they both feel the 31-year-old Owen may be the player to take over.
"I think Thomas Owen is the guy," Robinson said. "He's the guy who is going to play in the most number of them if he doesn't move. He definitely has the game. He's got a couple of bad breaks the last couple of years where he finished second. He's just got to get comfortable in that last round."
West likes Owen's chances to be their successor, too.
"Thomas has been incredible," he said. "He's either won or been the runner-up the last four years. Thomas is not only one of the best players in the area but he's one of the best in the state. He doesn't have any weaknesses. He hits the ball a long way and he has a good mental game. He's going to win many more county championships."
But whoever takes over as the best golfer in Cumberland County won't do it overnight. It will take decades for anyone to beat West and Robinson's accomplishments.
"It's going to take some serious golf over quite a bit of time to catch up to what they've done," Owen said.
Robinson agreed.
"There will be somebody to come along at some point to beat us," he said. "But they're going to have to play for a long time. You don't win eight, nine or ten times by just playing in it eight, nine or ten times."
One top player who will be missing from the field is Spencer Oxendine, who won in 2018 when he was a senior at Jack Britt High School. Now, he is a sophomore on the golf team at N.C. State. Although the Wolfpack fall season has been cancelled because of COVID-19, Oxendine still has team activities and school work that will prevent him from playing.
This marks the fourth straight year the tournament will be held at Gates Four. Bill Bowman, the publisher of Up & Coming Weekly and a major sponsor of the event, took over as tournament director in 2016 and has staged it at his home course.
Gates Four has a large clubhouse to host the pre-tournament Champions Dinner and pairings party and an outside pavilion for the awards presentation after the tournament. Of course, the pre-tournament events have been cancelled this year because of COVID-19 and the awards ceremony has been scaled back.
"We're going to do everything virtual for the awards on Sunday," said Gates Four general manager Kevin Lavertu. "We don't encourage everybody to hang around and we're taking all the precautions like trying to provide single-rider carts."
Bowman is attempting to build up the tournament participation to where it was years ago when nearly 200 golfers played and two courses were used to accommodate them. Last year, there were 88 players.
Lavertu is hoping for at least 100 players this year.
"Because of Covid there hasn't been the event fatigue like we've had in years past," he said. "People have not been traveling and playing in a lot of events so I'm thinking registration and participation might be up. The rounds are up all over the county this year because golf is one of the only things you've been able to do during the whole pandemic."
West and Robinson like the Gates Four course but they would like to see the tournament rotate to Cypress Lakes, King's Grant and Baywood as it has in the past.
"I think Gates Four is a great competitive test, particularly from the back tees," West said. "But I would like to see it rotate. Each course presents its own challenges. I think that is one thing that makes the tournament special, the fact that it has moved around. Gates Four has been a great host while we have gone through a transition period with some of the other courses doing some renovations."
Robinson is a co-owner of King's Grant and said he would like to host the tournament "but not every year."
"I've won a lot of tournaments at Gates Four and I think it's one of my favorite courses in the county, other than King's Grant," he said. " But holding the tournament in one place is not how the tournament was founded and I don't think that's how it should be. I think it should be spread around at all the courses and let them enjoy it."
Lavertu said, "King's Grant and some others have shown some interest so I don't know what the future holds. I think some of the players would still like to see it rotate around, so whatever works the best for everybody."
The tournament was pushed back from September to October this year because of COVID-19 and Lavertu thinks that will make playing conditions at Gates Four even better.
"We've always played the tournament the second week in September, historically, but that's really the worst time for the golf course coming out of the heat of summer," Lavertu said. "We've usually just aerified and it takes two or three weeks for the greens to heal. The green speeds will be up a little bit. It actually worked out better this year to have a delay with all the uncertainty. It seemed to be a natural fit. It should be a tough challenge for three days."
Any golfer who lives in Cumberland County and is at least 16 years old is eligible to play. There are divisions for championship, men's open, senior men and super senior men (65 years old and up), women's open and senior women (age 50 and up). The super seniors and women will play 36 holes on Oct. 10-11 and the entry fee is $145. All other divisions are 54 holes and the entry fee is $175. The deadline to enter is Oct. 2 at 5 p.m.
Players can register online at cumberlandcountygolfclassic.com or return an application to Lavertu at klavertu@gatesfour.com.
Toni Blackwell won the women's title last year when she was a senior at Cape Fear High School. But she will not be able to defend this year. She is now a freshman on the UNC Pembroke women's golf team and their season starts in October.
Pictured above: Gary Robinson and Billy West
Gary Robinson playing in the U.S. Amateur Fourball at Winged Foot
Gary Robinson
Billy West