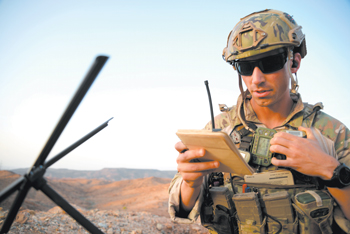 Army soldiers want network communications on the battlefield that can connect at any time, from any place, is secure and reliable.
The Army's modernization effort is delivering new radios, applications, satellite terminals and cross banding solutions to allow coalition partners to better share information with the troops. All American Division soldiers are at the forefront of this modernization effort, which is called Capability Set 21 and the Integrated Tactical Network.
For more than a year, 82nd Airborne leadership and soldiers have been testing and evaluating new network gear and have provided feedback to help shape technology across the Army.
Feedback from Fort Bragg soldiers has helped the Army prioritize units which will receive new network kits starting in 2021.