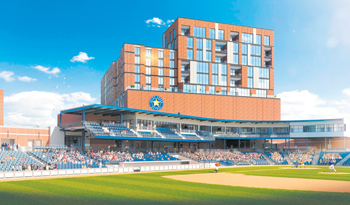 COVID-19 is having a significant impact on commercial real estate. The pandemic directly affects the demand for office space through quarantines, shutdowns, supply chain disruptions, employment loss and a shattering of consumer confidence, according to real estate research experts who spoke with Development magazine. "One investor told me that he cannot close on a building because he cannot get an appraiser to go out and look at it," said Emil Malizia," a research professor at the University of North Carolina. "What does that do to occupancy, particularly office buildings?"
"Similar to Fayetteville, office tenants across the country are pausing new office leases as officials re-evaluate how they use their offices and how many employees businesses will have due to financial harm from COVID-19," said Jordan Jones, manager of the PCH expansion projects in downtown Fayetteville.
"We have to recognize that this is not a financial crisis," said Timothy H. Savage of NYU's Schack Institute of Real Estate. "It's a natural disaster in which it is not the physical capital that is being affected — it is the human capital … that directly impacts the economy."
PCH developers have proposed building a seven-story office building and a five-story Hyatt Hotel atop the recently completed five-story parking garage on Hay Street. The city of Fayetteville agreed to purchase the garage and did so at a cost of nearly $18 million. The structure will provide parking for the new hotel, the office building, Prince Charles apartment tenants and to a limited extent, the public. The projects were initially slated for completion next year. "We are unable to provide an updated timeline on the projects moving forward," Jones said. "We remain committed to executing phase two above the parking garage and continue to actively move these projects forward."
The $40 million Segra baseball stadium to the rear of the parking deck and PCH's acquisition of the Festival Park Plaza building were also elements of a $120 million economic development undertaking in mid-town. What about the planned hotel? "On the hospitality side, the industry's occupancy across the country (including Fayetteville) has seen a significant decline," Jones noted.
"Without occupancy, a hotel is not financially feasible." But a firm with expertise in the hotel industry has concluded that Hyatt is the hotel chain that has instituted the best customer-friendly and customer-safe policies during the COVID-19 pandemic. NerdWallet analyzed and graded the policies of eight hotel companies and found that Hyatt's face mask requirement and staff training procedures set it apart from the others.
The chief executive officer of Hyatt Hotels Corporation is optimistic about the new normal. "I think there is clear evidence that there will be a robust return to travel even without a vaccine as long as you have a really rigorous, committed and vigilant approach to managing the virus," Mark Hoplamazian said. "The more practice we all have in being vigilant, being compliant, making it a part of our lives, the better off we're going to be. That's my aspiration and my hope for the near future."
Pictured:The PCH expansion projects in downtown — to include an office building, hotel and parking garage — were slated for completion next year, but have been delayed due to the COVID-19 impact.