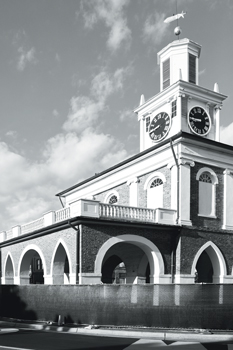 Fayetteville City Council wants a select committee created by Mayor Mitch Colvin to study controversial issues pertaining to the Market House.
Council decided Oct. 5 to not take immediate action to repurpose or tear down the building. Council voted 6-4 rejecting Councilwoman Courtney Banks-McLaughlin's efforts to require council to take a formal vote to demolish the historic landmark. Banks-McLaughlin serves District 8 on the city's west side.
The debate over whether to tear down the historic landmark has been at the center of controversy for decades because it was a place where enslaved people were sold during the early 1800s.
Many African-Americans consider the building a constant reminder of oppression. "The Market House has been an eyesore to many citizens within the city of Fayetteville due to slaves being bought and sold," Banks-McLaughlin said. She said people representing both sides of the debate have already made their views known to the council through comments, letters, emails and protests.
Those who support the building acknowledge that enslaved people were once sold there but point out that they were also sold at other city buildings and locations.
They note the building is on the National Register of Historic Places and has a rich and significant history not tied to slavery, as well as noted architectural significance. North Carolina ratified the U.S. Constitution at the site where the Market House now stands in center-city Fayetteville. The University of North Carolina, the oldest public university in the country, received its charter there in 1789.
Protests calling for an end to racism and police brutality have been centered around the Market House following George Floyd's death. On May 30, demonstrators tried to set fire to the building which "sustained charring and mass wood loss to the second story floor," according to federal prosecutors. Two men have since been arrested and charged with "maliciously damaging property."
When Fayetteville was the temporary capitol of North Carolina, the Market House was described "in a statement of significance as performing two functions: under its arches meat and produce were sold by local farmers, while the second floor served as the Town Hall." The paperwork does not, however, mention the buying and selling of slaves.
According to a study by Duke University professor John Cavanagh the sale of slaves "happened occasionally at the State House and Market House" for about 75 years up until 1865.
"Sales were spaced on the average about two months apart, if that frequently, and in most instances very few slaves were involved in each transaction," Cavanagh wrote.
Most of them were reportedly sold "in conjunction with the settlement of estates." Unlike Charleston and Richmond, Fayetteville was not a slave market.
Twenty years ago, a plaque commissioned by the city was posted on a Market House pillar acknowledging the enslaved people's occasional sale. As for Mayor Colvin's vision of a pair of ad hoc committees to deal with issues associated with contemporary race relations his hope is regular meetings will get underway soon.
"This is not on the back burner," Colvin said.