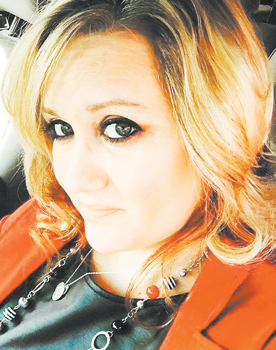 My name is Heather S. Holmes and I am your Republican candidate running for the House of Representatives District 44. I am a single mom and have a 12-year-old son.
I am a Christian and a member of First Baptist Church in Raeford. I'm acting youth leader at my church and the VBS director as well as a member of the choir and handbell choir.
I have humble roots. My maternal grandfather was a WWII veteran and coal miner in West Virginia. My paternal grandfather had only a 4th grade education, but as an entrepreneur taught my parents the values of hard work, perseverance, pride of self and country and instilled not only those but my Christian values in me and my younger sister.
Professionally, I'm a government contractor and I work to provide commercial products to federal and military customers with the Defense Logistics Agency.
I want to be the one to represent you in Raleigh by introducing new legislation to protect our children from pedophiles and sexual abuse. There needs to be stricter laws and harsher punishment for those who rob the innocence of others. I will be the voice for those silenced.
I believe in school choice. As a full-time working mom who homeschools I believe parents should have the right to choose how to educate your child.
As the daughter of military veterans and law enforcement veterans, I have seen first-hand the impact of war both abroad and local to our community. Our military and law enforcement (both active and veteran) are mistreated, neglected and forgotten when it comes to their mental health. I will work with medical and naturopathic doctors to provide safe and alternative treatments for those who suffer with PTSD, depression and anxiety and other mental illness. They have given so much and don't ask for anything in return.
I am a card carrying member of the NRA and North Carolina Grassroots and will vote to protect North Carolinians' right to keep and bear arms.
As a Christian, I believe that all life is sacred. I am a strong pro-life advocate and will fight for the lives of unborn children.
The coronavirus has hit our state pretty hard and the restrictions that were initially put in place for safety have now become about control. North Carolina needs to reopen businesses and get back to normal life in a safe way. Small business owners especially are struggling with the shutdown and it has and still is affecting their way of life. It's important to balance the needs of the economy with the concern's citizens have for their health. I will work with the governor and other legislators and medical officials to reopen our state and bring back our thriving economy.
North Carolina has made significant improvements in education funding and teacher pay and we are committed to continuing improvement. Democrats and Governor Cooper voted against every teacher pay raise because they said they weren't good enough.
Not only do we need more teachers, we need better education, vouchers for parents wanting to use other options for their children's education as well as more materials and funding for the arts.
I won't play politics. I will do whatever I can to improve educational outcomes for students and help retain teachers.
I will not make promises I cannot keep but I will work very hard for the citizens of Cumberland County to not only make our county better, but also our state.
I hope you will vote for me to be your House of Representative for District 44.