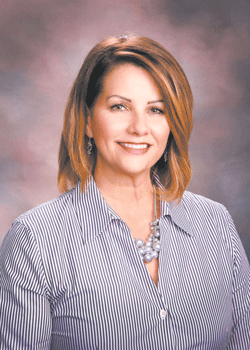 The principal of Cliffdale Elementary School, Suzanne Owen, has been named Cumberland County Schools' 2021 Principal of the Year during the district's first-ever virtual celebration.
With 24 years of experience in education, Owen has served as principal of Cliffdale Elementary since 2018. Under her leadership, students met growth in all measures, exceeding growth in reading.
"Her dedication to supporting teachers and building positive relationships with students is commendable, and we are fortunate to have her in CCS," said school superintendent Dr. Marvin Connelly.
Tianna O'Brien, assistant principal at Bill Hefner Elementary School, was named the CCS 2021 Assistant Principal of the Year.
As the district's Principal of the Year winner, Owen received $3,000 from Lafayette Ford-Lincoln ($1,000 for personal use, $2,000 for school use), a cash award, iPad mini and floral arrangement from CCS, a commemorative Principal of the Year ring, an engraved desk clock and a trophy from the board of education.
"This year—more than ever before—it's important that we celebrate our school leaders who have shown resilience during a challenging and unprecedented school year," said Dr. Connelly. As the district's Principal of the Year winner, Owen will now compete for the regional title.
Pictured: Suzanne Owen