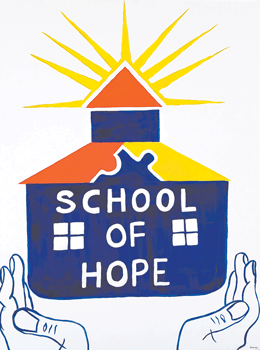 The School of Hope is a local non-profit serving children with autism and their families by providing resources and special needs education. Co-founders Amy and Rob Sparks decided to start the school after the death of their own son, Jarred, in 2011.
"We lost our son who was autistic and we had never really found a good school for him," Rob Sparks said. "My wife said, 'I really want to open a school to provide the special needs of these kids.' After Jarred passed away we started talking about it, and said this is what we were supposed to do," he said.
Amy said she made a promise to Jarred that she would never let his death be in vain, and opening a school for children with autism is a way of fulfilling that promise.
"It was a labor of love for my husband and I," she said.
The duo raised money for six years, started the Jarred Bryan Sparks Foundation in memory of their son and then the School of Hope in 2017.
"We said we would never let Jarred's memory die and he was my greatest teacher, you know when you think you're teaching kids that have disabilities, they're actually teaching you," she said.
The education facility located in Fayetteville has grown from 5 students in 2017 to 23 this year.
"We service children who are severely autistic, all the way up to kids who are high functioning autistic," Amy said. "We are not based according to grades, it's based on ability levels, socialization and skills and how we can meet the needs of these students."
School of Hope is a private school that sees a lot of children with autism that public schools haven't been a good fit for, she said.
There are no more than six children in each classroom compared to public schools with higher numbers, Rob said.
The school offers smaller classroom sizes, teachers, teaching assistants, Applied Behavior Analysis Therapists and Registered Behavior Technicians.
"Cumberland County schools do not allow RBT's into the classrooms and that's where our parents have been distraught because they know that their kids need that extra person there to help them but yet they are not allowed to bring them in public schools," Amy said. "We feel like we are meeting the needs of a lot of these families because we can provide services that meet the individual needs of our children."
The School of Hope doesn't follow an Individual Education Plan like public schools but focuses on a Personal Education Plan and takes into consideration the children's academic and socialization levels.
They assess students and then form a plan on how to best serve the child and their needs, she said.
"Because a lot of our children don't want to be around other people, they don't want to have conversations with people so we set up situations, teach them how to interact with their peers, something as simple as playing Uno, a game that teaches socialization how to take turns, follow directions," Amy said.
The School of Hope serves not only civilians but also the military community, she said.
Rob Sparks said when he served in the Air Force, they struggled to find the right schools for their late son.
"We have been there where people tell you they can't do anything else with your kid or that there's nothing else … we can provide for their needs," he said. "We just want to be able to try and do that."
The couple hopes that the school will have about 100 children in the next 10 years.
"Our greatest goal is that this school will go on forever when we are long gone and will touch lives even after us," Amy said.
They need to find people they can trust and know are going to love these children and do what's best for them when she and her husband are no longer able to run the school, Amy said.
"It makes me feel great, I mean I love giving back to the community especially an area I am familiar in," Rob said. "My son didn't have these opportunities, so I like to be able to create those opportunities and resources for autistic kids and I am just glad to be one of those resources."
The foundation and school host various fundraisers and events in the fall and spring to raise money for both non-profits. The next one is the Riding for Hope fundraiser scheduled for Nov. 14 to raise money for playground equipment and other needs of the school, Amy said.
The fundraiser will have a motorcycle ride, raffles and a silent auction. The event will also serve to raise awareness about autism and answer questions that people may have, she said.
"I think it's important that we are advocates for our children," Amy said. "Our children are very unique, and this isn't a cookie cutter disability, and the number of autistic children is going up so it's important we raise awareness because autism isn't going away."
Rob said that the pandemic has slowed down the efforts to raise money and grow and this fundraiser will help move things along.
"You know you can write grants and hope and pray that you get them but just because you write them doesn't mean you will get them," Amy said. "We need this money to help for new playground equipment, when our kids go outside they can be engaged, have physical exercise," Amy said.
The goal of the fundraiser is to raise at least $10,000. If someone can't attend but still wants to donate they can do so at the website https://theschoolofhope.networkforgood.com/projects/94356-make-a-difference-in-the-lives-of-children-with-autism
For more information visit https://www.theschoolofhope.net and https://www.jarredbryansparksfoundation.org
The Riding for Hope event starts at 10 a.m. Nov. 14 at the Fayetteville Community Church located at 2010 Middle River Loop. The bike ride will stop at the Seven Gables Skating Rink in Clinton and return to Fayetteville. Registration will be from 8 a.m. to 9:30 a.m. Rider tickets are $20, passengers are $10. Pre-registration email is sohfundraiser2020@gmail.com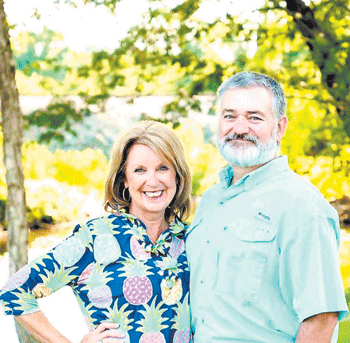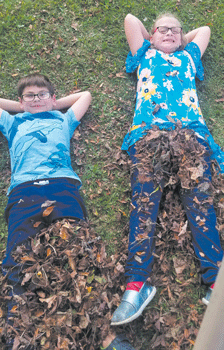 (Left) Amy and Rob Sparks opened the School of Hope for austistic children in 2017 in honor of their late son, Jarred.
(Right) The Riding for Hope event on Nov. 14 will raise funds for playground equipment for students and other school needs.