With Fort Bragg as a neighbor, it is common to see Army soldiers and sometimes Air Force airmen, many living right next door. Our community has a patriotic core with many of our young men and women enlisting to serve our nation in other military services. To recognize them, we proudly shine a spotlight on some of our hometown heroes currently serving abroad.
Information System Technician 2nd Class Jose Rivera-Scott, a sailor from Hope Mills, is a network operations technician assigned to Camp Lemonnier, Djibouti. Located in an austere environment, Camp Lemonnier is a U.S. Navy base located in the Horn of Africa and is the only enduring U.S. military base on the continent of Africa. CLDJ is an operational installation that enables U.S., allied and partner nation forces to be where and when they are needed to ensure security in Europe, Southwest Asia and Africa.
Rivera-Scott is a 2013 graduate from Gray's Creek High School. "Many family members have served before me in the Air Force and Army including my grandfathers and my mother," said Rivera-Scott. "My grandfathers were pilots, so that is what I originally wanted to be; however, I chose a different path, and I'm proud of being the first Navy sailor in my family."
Halfway around the globe, two Fayetteville natives are assigned aboard the Ticonderoga-class guided-missile cruiser USS Shiloh (CG 67).
Sonar Technician (Surface) 2nd Class Darrius Hames and Operations Specialist Seaman Julia Champagne are in the Philippine Sea participating in exercise Keen Sword 21.
Keen Sword is an example of the strength of the U.S.-Japan Alliance, the foundation of peace and security in the Indo-Pacific region for more than 60 years. The relationships built and maintained during these events are critical to our shared capability to respond to contingencies at a moment's notice.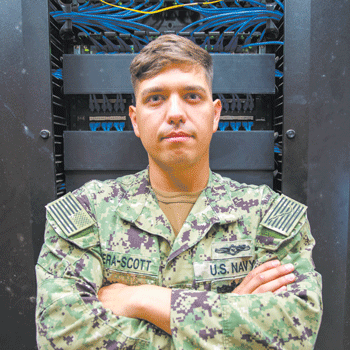 Pictured: (top left) Information System Technician 2nd Class Jose Rivera-Scott, from Hope Mills, is serving in Djibouti. (U.S. Navy Photo by Mass Communication Specialist 3rd Class Colin Sens)
(top right) Sonar Technician (Surface) 2nd Class Darrius Hames, from Fayetteville, is serving aboard the USS Shiloh in the Philippine Sea. (U.S. Navy photo by Mass Communication Specialist Seaman Santiago Navarro)
(bottom) Operations Specialist Seaman Julia Champagne from Fayetteville, left, and Operations Specialist 2nd Class Edith Dantes from Sioux City, Iowa, measure the bearing and range of surface and subsurface contacts in the combat information center of the USS Shiloh in the Philippine Sea. (U.S. Navy photo by Mass Communication Specialist 2nd Class Ryre Arciaga)