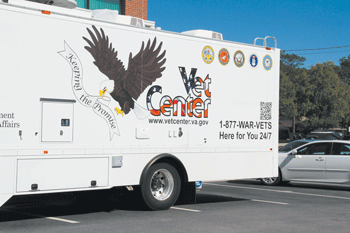 The Community Veterans Engagement Board, supported by other agencies and local businesses, are coming together to connect veterans with resources to address needs, some of which have been exacerbated by the pandemic. The "Drive Through Veterans & Transitioning Service Members Resource Fair" will be held Nov. 24 from 3 to 6 p.m. at Manna Church on Cliffdale Road in Fayetteville.
"A lot of the people that we partner with … wanted to do something for the veterans to let them know that we care and we are still thinking about you," said Susan Deckant, veteran outreach program specialist for the Fayetteville Vet Center. Decante hopes the drive-thru resource fair will raise the morale of local veterans while providing much-needed information.
"We understand there may be some homeless veterans that may walk up and we'll hand them things, we'll make sure they have masks and if they don't we'll give them a mask, and we'll have hand sanitizer on all the tables," Deckant said. "If they need to talk to a U.S. Department of Housing and Urban Development-VA Supportive Housing (HUD-VASH) Program social worker and get into the program, they can."
There is a virtual resource guide but the CVEB members realized that not all veterans are able to go digital for various reasons including lack of internet access or inability to navigate digital resources, said CVEB Board Chair Paul Berry.
The event will take place in the parking lot of Manna Church located at 5117 Cliffdale Road. The parking lot will have a Veteran Affairs RV with tables set up in the front and going around the building where veterans can drive through and be handed pre-packaged bags as they go, Deckant said. Bags will include the "2020 All North Carolina Veterans Resource Guide," Zaxby's gift cards, reference cards from helpful organizations such as the Veterans Administration, American Legion, Veterans of Foreign Wars and others.
Reaching out to service members is not new to Manna Church. The church recently hosted a drive-thru lunch for single soldiers on Fort Bragg who are not be able to go home during the holidays. Deckant said the church's reputation for being military-friendly was one reason they were asked to host the resource fair.
"As a local church, we want to be here for the community and we have a building in the heart of the city and we want to make ourselves available and do various activities and serve," said Tom Cartwright, Outreach Pastor for Manna Church.
Deckant said there will be organizations at the event like the Veterans Benefits Administration to assist veterans in setting up an appointment or to file claims. Among others, American Legions and NC Legal Aid will also be giving out information to help veterans facing evictions during the pandemic, or to assist with discharge upgrades. There will be representatives from different organizations to help with financial counseling, gain employment, legal services and more.
The Vet Center will be able to connect them with suicide prevention and caregiver support, as well as substance abuse treatment programs. The Center provides community based mental health counseling to combat veterans and active duty and provides therapy for PTSD, anger management, anxiety, depression, grief and loss counseling, marriage and family therapy and military sexual trauma. Their services are free to veterans and service members. Current service members can self-refer to the Vet Center without having to go through their chain of command or primary care provider, Decante said.
The drive-thru fair will be handing out over 250 gift coupons for a free sandwich and drink from Zaxby's and free turkeys will be passed out to the 1st, 25th, 50th, 60th and the 82nd drivers courtesy of the Bingham Drive Food Lion grocery store.
"Many veterans, particularly with COVID, are more and more isolated," Berry said. "Veterans by nature are wired to be connected, have a sense of team, no matter what service you're in, you're part of something bigger," he said. "Due to COVID, they might be feeling very isolated, then you bring in financial, marital, domestic stressors — that whole dynamic is hard, so it's important to get them these resources."
Berry emphasized that the community needs to do this to provide resources to the veterans and to also thank them for their service. The resource fair is an opportunity to put veterans in touch with organizations that have the specific resources to address their needs.
Deckant said it is important to connect veterans to resources because a lot of them face uncertainty when they are transitioning out of service. Sometimes service members and their families are not aware of the services provided by different agencies.
"Through COVID-19, it's more needed to spread the word of these resources and it's our job as a community to provide them," Berry said. "We want to provide a holistic service, no matter what the veteran may have a question on, it's there."
"It's very scary to go from active duty to civilian life, you work so hard to get promoted all those years and you when you get out, it all drops drastically," she said. "We can help navigate the process."
For more information to get connected with resources contact the Vet Center Call Center at 877-WAR-VETS (927-8387) or the Veterans Crisis line 1-800-273-8255, or visit https://www.va.gov.
If veterans and service members are struggling, they can reach out to the local VA Vet Center located at 2301 Robeson Street, Suite 103. They can also call (910) 488-6252 to speak with a therapist for individual or group
counseling.
Veterans and family members of service members can also reach out to the Cohen Veterans Clinic located at 3505 Village Drive, (910) 615-3737 for community-based counseling