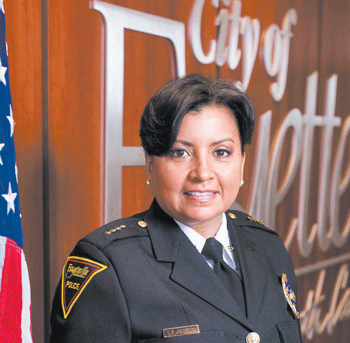 Fayetteville Police Chief Gina Hawkins has publicly conceded that morale is low among officers while turnover is high.
"Morale is low. It's low for a lot of different reasons," she told City Council recently. "But we still are resilient. We are still doing our job." She did not elaborate as to why she believes morale is on the decline, but she also said retention of police personnel is a problem.
The FPD's authorized strength is 434 sworn officers. The current turnover rate is 10% or 43 vacancies. Hawkins said 391 officers are currently on the payroll. Turnover rates and morale are linked. According to the Law Enforcement Management and Administrative Statistics, the average nationwide turnover rate of law enforcement officers is 10.8%.
Fayetteville patrol officers work 12-hour shifts. Hawkins told city council that many employees no longer think of police work as a 20-or-30-year career. Law Enforcement wages are higher than Fayetteville in many North Carolina cities. The chief has noted that that retention is a problem because Fayetteville cops earn a starting salary of $38,000 a year. Salaries in North Carolina's top five municipal police agencies are: Greenville $50,666; Raleigh $47,741; Smithfield $45,645; Jacksonville $45,597 and Apex $45,066.