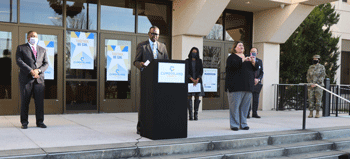 Fayetteville area civic leaders and health experts are pleading with citizens to take the COVID-19 pandemic seriously. They came together in a joint news conference Dec. 9th urging residents to take personal responsibility to protect themselves and others in the fight to defeat the virus.
"I want everyone to remember these cases are people — our brothers, our sisters, our parents, grandparents, friends and fellow citizens," County Commission Chairman Charles Evans said.
Mike Nagowski, CEO of Cape Fear Valley Health System said 60 local people are hospitalized with COVID-19.
Evans and Nagowski were joined at the news conference in front of the county courthouse by Fayetteville Mayor Mitch Colvin and Cumberland County Public Health Director Dr. Jennifer Green.
"Make no mistake – this is a virus that affects everyone," Nagowski told reporters. North Carolina hospitals currently have enough beds and staff to treat people who need to be in the hospital, whether for COVID-19 or other reasons. But researchers at the Cecil G. Sheps Center for Health Services say the number of COVID-19 patients has increased nearly 20% a week on average in the past three weeks, and that at that pace hospitals will run out of space. The availability of intensive care unit beds would likely run out sooner, in a little more than 4.5 weeks, the Sheps Center researchers estimate.
Local officials acknowledged the repetition of warnings during the news briefing, but urged everyone to wear masks, not to cluster together with others and to wash their hands frequently.
"There is a light at the end of the tunnel, but it's a long tunnel," Evans said.
Army Col. Sheryl Bedno, director of Fort Bragg's Health Department, said military officials are working to keep soldiers aware of the need to slow the spread of the disease. "We need to work together to fight COVID-19," she said, noting that many soldiers live off post.
The state of North Carolina will enter a modified stay-at-home order or overnight curfew Dec. 11, restricting most activities from 10 p.m. to 5 a.m. When Gov. Cooper did not shut down dining rooms in North Carolina this time restauranteurs breathed a sigh of relief. Restaurant dining rooms will close at 10 p.m. though takeout can continue afterward. Most restaurant owners are on record saying they don't do much business after 9 p.m. anyway. Last call for liquor at bars and restaurants has been moved back to 9 p.m. Fast food drive-thru service can continue after 10 p.m. without interruption along with places that provide to-go and curbside pickup service.
Only large-scale federal emergency financial aid will stave off widespread restaurant closings and continuous damage to the nation's economy. Restaurant managers have had to limit seating availability to about one half their usual patronage.
With the decline in business some employees have been temporarily laid off and some menus have been cut back for savings in food purchases. Hours of operation in some cases have been reduced to the most popular times of day.