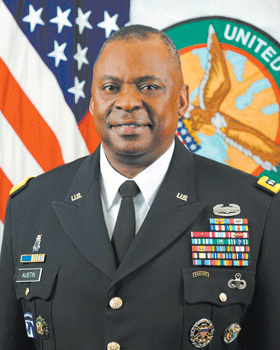 The nomination of retired U.S. Army Gen. Lloyd Austin to become Secretary of Defense in the Biden Administration doesn't surprise co-workers or politicians.
President-elect Joe Biden has known Austin at least since the general's years leading U.S. and coalition troops in Iraq when Biden was vice president. Austin was deployed to command the Multi-National Corps-Iraq in 2008 while serving as commanding general of 18th Airborne Corps. As commander of MNC-I, he directed the operations of 152,000 coalition forces in all sectors of Iraq.
Austin's service as a three-star general at Fort Bragg was not his only assignment at the local Army post. Soon after graduating from the U.S. Military Academy at West Point, then-Captain Austin was assigned to the 82nd Airborne Division where he commanded the Combat Support Company, 2nd Battalion (Airborne), 508th Infantry and also served as the Assistant S-3 (Operations) for the 82nd's 1st Brigade Combat Team. Years later, in 1993, Austin returned to the 82nd to command the 2nd Battalion, 505th Parachute Infantry Regiment and later served as G-3 for the Division. Following graduation from the U.S. Army War College at Carlisle Barracks, Pennsylvania, then-Colonel Austin returned again to Fort Bragg and took command of the 3rd Brigade, 82nd Airborne.
"I served under Gen. Austin when he was the commander of U.S. Forces-Iraq," said retired Army Colonel Kevin Arata of Fayetteville. Arata said he did not work for Austin directly, but had "the opportunity to view his leadership style on many occasions. He always struck me as someone who exudes very positive leadership qualities." Arata was Chief of Public Information in 2011, in Baghdad, Iraq.
If confirmed as Secretary of Defense by the Senate, Austin would be the first Black leader of the Pentagon. He also served in 2012 as the first Black vice chief of staff of the Army, the service's number 2 ranking position.
As a career military officer who served 41 years in uniform, the 67-year-old Austin would need to obtain a congressional waiver to serve as defense secretary, exempting him from the legal requirement that a former member of the military be out of uniform at least seven years before serving as secretary of defense. The law was meant to preserve the civilian nature of the Department of Defense. There is some opposition in Congress who believe a clearer line should be drawn between the civilian and military leadership of the DoD.
Austin has a reputation for strong leadership, integrity and a sharp intellect. When he retired in 2016, President Obama praised his "character and competence" as well as his judgment and
leadership.
He would not be a prototypical defense secretary, not because of his 41-year military career but because he has always shied from the public eye. Officials in the know contend it would be an understatement to say he was a quiet general. Although he testified before Congress, he gave few interviews and preferred not to speak publicly about military operations.