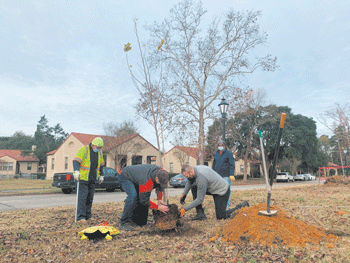 Fort Bragg invited community members to assist the Engineering Division of the Directorate of Public Works in planting the next generation of Tulip Poplar trees at the Bastogne Gables Park on post Dec. 9 to kick off a series of monthly events leading up to Arbor Day in April 2021.
"Planting trees is a generational opportunity," said Brian Vesely, registered architect with the DPW and Arbor Board chair. "It is an investment that will continue to make Fort Bragg a better place to live and work."
In an initiative to be great stewards of the environment, 40 Tulip Poplar trees were planted. Tulip Poplars are large, upright and fast-growing trees with big flowers similar to a magnolia, producing yellow leaves in the fall.
At the event, DPW senior wildlife biologist Erich Hoffman demonstrated to the volunteers how to properly plant a tree.
"When you take the tree out of the pot, you see the roots are pressed against the soil, break the roots up to stabilize root growth because much moisture on the tree can cause some damage, it's a little bit of a process," Hoffman said. Mixing the amendment and the soil together helps to ensure there is extra room to grow. Always make sure when you look up the tree that it is straight, so it can grow properly, he said.
Hoffman instructed that adding mulch helps keep the moisture in the dry seasons and emphasized the importance of the first year of the tree's survival.
"If you can get the tree to survive for the first year, it has a higher chance of survival afterwards," Hoffman said.
Fort Bragg will host five other events, one each month, leading up to Arbor Day in April 2021. Each event offers the opportunity for volunteers to plant trees in designated areas throughout the installation, said Elvia Kelly, spokeswoman for Fort Bragg Garrison Public Affairs Office.
The other events will be similar to the kick-off, where volunteers will bring their own gloves, and DPW will provide the trees, shovels and other needed materials.
"The intent is to ensure Fort Bragg's natural infrastructure, trees and vegetation are here for future generations to enjoy and is a highlight of the installation," Kelly said.
The post will continue to manage and take care of its infrastructure and environment because it promotes readiness and a sense of community, she said.
Pictured: Volunteers help workers from Fort Bragg's Directorate of Public Works plant Tulip Poplar trees on post to kick off a six-month initiative leading up to Arbor Day 2021.