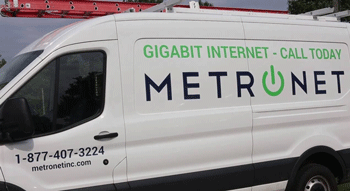 MetroNet and the city of Fayetteville will bring 100% broadband internet, television and phone services to businesses and residents in greater Fayetteville. Indiana-based MetroNet will spend more than $70 million to develop its high-speed system which is the company's first deployment in North Carolina. Fayetteville, Hope Mills and Spring Lake as well as Linden, Wade, Stedman, Vander, Godwin, Eastover, and Falcon and much of unincorporated Cumberland County, as well as portions of Hoke County, including Raeford and Rockfish will be tied together.
Fayetteville has DSL, cable, fiber, fixed wireless and satellite internet available depending on the area. DSL covers nearly all of Fayetteville. Common speeds average around 10-40 Mbps depending on the area and provider. Internet is provided using the same cable cords as cable television. Cable internet has much faster speeds on average than DSL. MetroNet will compete primarily with Charter Spectrum for internet, television and telephone service.
There are also two small satellite services and CenturyLink provides DSL availability. There may be early termination fees for changing service when under contract. Spectrum offers a contract-free, or month-to-month, option. Program prices and internet speeds vary.
Fayetteville-Cumberland Economic Development Corporation President Robert Van Geons says MetroNet's high speed broadband service is "state-of-the art infrastructure that will literally link our business community to the global marketplace, at the speed of light. Small businesses and entrepreneurs will be able to utilize and deploy next generation technologies and develop tomorrow's
innovations."
In addition to television and telephone services, ultrafast internet broadband will also support teleworking, distance learning and virtual medicine. A fiber optic network uses tiny strands of glass which are extremely thin. To be specific, they are less than a tenth as thick as a human hair. Each optical fiber transmits beams of light over great distances. The beams carry unprecedented amounts of data — much more than cable or DSL — directly to homes and businesses.
Amid COVID-19, the community's need for increased broadband access has become even more apparent for virtual learning and remote school and work. "MetroNet will provide small businesses, start-ups, students and teleworkers with capabilities previously unavailable to much of Cumberland County," Van Geons said.
Mayor Mitch Colvin said the company is known for its reliable, high-speed internet friendly service, and fair pricing with no long-term contracts.
"We've experienced such a warm welcome from Mayor Colvin and the City of Fayetteville since we began discussing this project," MetroNet President John Cinelli said. "It's clear that this community is rich in diversity and opportunity, and we're excited to be a part of it as we move forward together."
Projects of this size typically take approximately two years to build, Cinelli noted.
As the work gets underway, residents will receive communications by mail about construction activity in their neighborhood 30 days prior to starting. The company provides additional messaging, such as yard signs, to let residents know when the temporary construction process is beginning in their neighborhood.