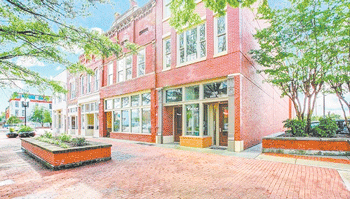 According to a 2020 research study by coworkingresources.org, an expected 5 million people will be working from coworking spaces by 2024, a 158 percent increase since 2020.
The need for facilities to provide coworking spaces is already being addressed in Fayetteville with current and new offices sweeping in.
Fayetteville's newest coworking venture called The Hub is owned by Tyson Commercial Real Estate. The space, located at 109 Hay St., is set to open in March, and join existing spaces like Revolutionary Coworking and The Common to accommodate the increasing need for coworking facilities.
"The Hub is Fayetteville's community connector and offers a turnkey experience and workspaces for business owners and entrepreneurs in our area," Henry Tyson, co-founder of The Hub, said. "It's a space to incubate an idea for an emerging company, a place for people to get together and do business with one another all while spurring each other on towards accomplishing their goals."
The 3,500 sq ft. coworking space will offer small office spaces, desks, storage, conference rooms for meetings, patio space, and options for designated parking with the goal of flexibility for customers.
It's a membership model said Clark Rinehart, consultant for The Hub. There is a monthly option, or folks can also come in and use the space for the day or week, Rinehart said.
Rinehart owns a coworking business in Raleigh and says his expertise is the layout and design of such spaces helps him make recommendations for the Fayetteville market.
While there are other great providers in Fayetteville, Rinehart said The Hub aims to establish a premium working space with all the amenities people expect in a professional office space.
Due to pandemic social distancing restrictions, The Hub will accommodate about 55 to 60 spots for coworking. The facility will provide premium coffee, dedicated parking, high speed Wi-Fi and staff on site to help with any issues.
Our team has worked really hard to create a premium and professional environment that will foster growth from the heart of the city, Tyson said.
The Hub is offering scheduled tours and information to potential customers and can be reached at http://hubfaye.com/landing-page/ or their email hello@hubfaye.com
"Is the traditional office space dead? No, but a hybrid model having flexibility — like you can work from home and then have a place perhaps even a small footprint companies had prior to the pandemic — that's why I think these models will thrive," Rinehart said. "I do think there is a market for coworking spaces in Fayetteville, especially downtown, lots of small businesses, military, entrepreneurs and people who have been running very successful companies from home who are yearning for these types of spaces."
The Fayetteville Cumberland County Economic Development Corporation's CORE Innovation Center located in the PWC building downtown offers tech-focused coworking spaces.
The Core Innovation Center is little different than a coworking space. Designed for government contracting and energy companies, it places emphasis on those doing business with the government, said Robert Van Geons, President/CEO of FCEDC.
Launched about 18 months ago, it hosts military contractors and technology companies with FCEDC's that share their primary focus of recruiting and developing new businesses for Fayetteville.
The effort was designed to support the adoption of advanced technology in the Fayetteville-Cumberland County area and work to retain innovative entrepreneurs, he said.
"I think that it's a very exciting development for our community to have various coworking spaces, many that are currently successful and many that are starting up," Van Geons said. "It provides options for people that are teleworkers, entrepreneurs, startups."
Kyle Simms, who rents a space out of Revolutionary Coworking located downtown said he works for a medical device company based in Oregon.
"The company hired me, and I didn't want to move to Oregon, so they let me stay here in North Carolina, so the company picks up my rent space. It's a good flexible way of giving me an office," Simms said. "The biggest reasons I need an office is for personal meetings, small groups and the conference room space for larger focus groups."
As a member, Simms describes one perk of getting to use 20 hours of conference room time every month at Revolutionary Coworking. When he was working from home, it would cost $700 to $800 to rent a conference room at a hotel.
"I was already working remotely out of the coworking space since 2017 before the pandemic," he said. "I have had an office there since, but now I use it more just because the kids are at home and remote learning and it's made it a bit difficult to work from home."
Revolutionary Coworking offers different membership levels, for more info visit https://www.revolutionarycoworking.com.
While family may be a distraction for some who work from home, others can feel a sense of isolation working from home. Some workers want the option to come work in a dedicated space two to three days outside of their home, Rinehart said.
"Bringing people who have certain interests and affinities together to really create this greater sense of 'we are in this together' and we want to see this innovation hub emerge from the heart of Fayetteville," Rinehart said.
Van Geons said there is absolutely a market in Fayetteville for coworking spaces.
"If you look at the Commons, they are expanding their coworking space on Morganton Road, The Hub will serve more everyday folks, and Revolutionary has more short-term folks as well," he said. "Each of them is serving a different audience and there's room for a lot more here."