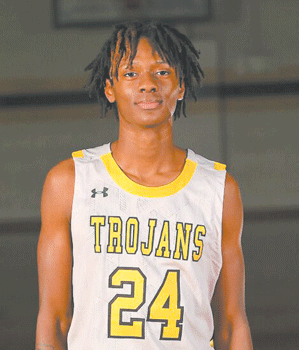 The staff of the Student Learning Center had grown accustomed to seeing Fayetteville Tech's student-athletes regularly show up in the center, using the space for studying, tutoring and computer access between classes and afternoon
practices.
"I'd usually be in there about four hours," men's basketball player JeKael Gay said. "I'd finish up class around 10 a.m. and then be in the Student Learning Center until we had practice or a game. It's a good way to get your stuff done."
Then, the COVID-19 pandemic hit, and the athletes, conscious of limiting indoor gatherings, disappeared from the SLC.
That prompted the center staff to get proactive about helping student-athletes. Center Director Kareka Chavis developed the Student Learning Center Intercollegiate Athletics Collaboration, a partnership between the two departments to promote learning opportunities for FTCC's 130-plus athletes.
"We wanted to partner with Athletics to help any athlete who needs or wants one-on-one assistance," Chavis said. "Mainly, we're just trying to be an extra helping hand for them. We don't want our student-athletes to get left behind or to lose their eligibility."
As part of the collaboration, each athletic team is paired with a SLC staff member who serves as their team liaison, the main point of contact for helping each athlete navigate the center's resources.
Athletic Director Dr. Shannon M. Yates said the partnership has provided valuable support for the student-athletes.
"It has been the Athletics Department's pleasure to work with Kareka Chavis and her outstanding staff as we develop and implement the Student Learning Center Intercollegiate Athletics Collaboration," Yates said. "This is an excellent resource for FTCC student-athletes as we continue to work through the challenges of COVID. I can not thank Kareka and her team enough for going the extra mile to foster academic success as we work to become champions in the classroom."
The program kicked off in October, making this spring its first full semester in action.
The center staff went to work early, reaching out to student-athletes through email, phone calls and text messages, making them aware that academic help and support was available.
The center's offerings run the gamut — from subject-specific tutoring and assistance on assignments to more fundamental skills, like time management and organization.
The SLC has ramped up its virtual assistance to fit the times and the pandemic. In addition to Net Tutor, a third-party virtual tutoring service accessible through Blackboard, the center also offers virtual one-on-one tutoring with FTCC instructors.
Brenda Harris, an athletic team liaison and instructor, said the options help student-athletes get help in a way that works with their schedule.
"The athletes have a lot of demands," Harris said. "I've worked with students who are working, going to school and have athletics and have children. We're here Monday through Friday, 8 a.m. to 5 p.m., and it's nice to know that someone here is available to you at a specific time."
Through the collaboration, the center staff will maintain contact with student-athletes, checking in on their academic progress and help them navigate their overall FTCC experience.
Gay said the center's instructors have helped him become a better writer and improve his grades, landing him on the Dean's List for the fall semester.
"I've told my teammates about it, and I'd refer it to anybody, any student," Gay said. "If you're struggling, they can really help you out."
Pictured above: JeKael Gay, FTCC student-athlete
Pictured below left: Kareka Chavis, Student Learning Center Director
Pictured below right: Brenda Harris, SLC instructor and team liaison