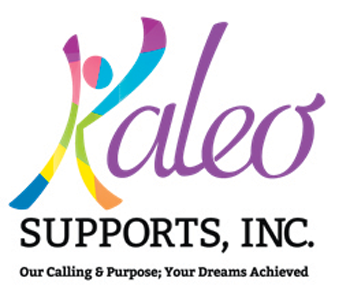 Each year many celebrate the month of March as Developmental and Intellectual Disabilities Awareness Month, but Nancy Szymkowiak strives year round to spread awareness and help those in the community living with disabilities.
Kaleo Supports was founded by Szymkowiak and Karen Campbell in August of 2007 to provide services leading to meaningful and real outcomes for those living with disabilities and to help Szymkowiak's daughter who has disabilities.
"I learned early on that services and information were not easy to obtain, so I became a self-studied advocate," Szymkowiak said. "I started researching and learning so I could get my daughter what she needed."
When looking for the right programs for her daughter Lacey, who was then four and was offered the pre-school handicap service, made Szymkowiak realize that Lacey needed to be with her peers without disabilities to learn.
"I didn't know then that was inclusion, meaning you are included in the world and you're not just in a segregated community, she said. "And she's now about to be 31 and she lives in her own place."
Szymkowiak's daughter suffered a stroke at birth and currently has a speech impediment, left side paralysis in her leg, and limited use of her left hand.
Our children take us on journeys, she said.
What began as a journey to find her daughter the right programs, tools and support led to her helping other families, getting involved in support groups and workshops, and in 2007 she quit her job and decided to launch Kaleo Supports.
"I started in the corner of my living room, I pulled it together, got credentials to do services through alliance and now we do services with four different managed care organizations," she said.
Some of the services Kaleo Supports offer are in-home intensive support, residential support, community networking, supported employment, personal care, natural support education and more.
We provide innovations waiver services, which is a North Carolina Medicaid waiver for people with intellectual and developmental disabilities; traumatic brain injury waiver, which is the pilot program through Alliance Health Plan; and vocational rehabilitation services, Szymkowiak said.
Through the NC Division of Vocational Rehabilitation service, Kaleo provides job placement, job training, stabilization and closure to recipients. The team at Kaleo helps clients with daily living by promoting physical wellness and quality of life.
"We don't just cook a meal, we help them learn to prepare a meal, we teach them to be more independent," Szymkowiak said. "Then we have people working jobs, we provide support at the job site."
Currently, Kaleo Supports currently has two licensed facilities. The staff helps clients including Szymkowiak's daughter to cook breakfast, budget and shop for groceries, laundry and more.
We try to make it as natural as possible and not clinical like home help," Szymkowiak said.
Currently the company has a staff of about 67 to 74 people serving about 25 different counties in North Carolina.
"My job functions are to make sure that my clients' needs and goals are met, physically, mentally, emotionally and spiritually," Direct Support Professional for Kaleo, Alisha Kelley, said. "I focus on making sure that the life they live is happy and full of laughter and structure by meeting goals that are laid out and trying to go above and beyond."
My staff, they think big for them, they want them in the community, want them doing things, Szymkowiak said.
Terri Kane, a family member of a 58-year-old Kaleo Supports client with developmental disabilities said Szymkowiak saved her sister.
"We've been with Kaleo for several years and I truly appreciate Nancy because she walks the walk, it's not just lip service," Kane said. "She began her company because she has a daughter with certain disabilities so she's the owner of the company, but she's also a parent of someone who needs the types of services she provides."
We did not realize my sister was going through depression, but Nancy did and once she identified the issue, we took my sister to the doctor and she's much better now, she said.
Helen Black works as a direct support professional for Kaleo Supports as well as uses their services for her 40-year-old son who lives with intellectual disabilities, cerebral palsy and strained speech. He receives community living and networking services.
Through the years as my son has gotten older it has become difficult because he needs total care and it became difficult with other agencies in the past to find male providers to help him but with Kaleo he has had at least two, she said.
"It's like a unicorn in this field, really really wonderful that he's been able to have male providers," Black said. "I believe that Kaleo is extremely dedicated to helping find the right fit for each client and I know personally with my son they have, sometimes it takes a little while, but I know they continuously work on it."
Black has been an employee with the company since 2019 and currently services two clients and assists them with every day and engaging activities.
"Through the years I have noticed that once you get a client and you work good together, to really keep those same people and expand that so the work involved advances their capabilities more," she said. "It's good for them to have some stability."
Kaleo in Greek means 'called to a purpose' and in Hawaiian means, 'to speak up for,' both of which are my God called purpose, Szymkowiak said.
"One of the things is when I started my company, with my strong philosophy, I thought we could help everybody but It took me a bit, but I came to realize not everybody wants what we offer, and that's okay," she said.
Kane said Nancy truly cares about the people she serves and her staff. I have seen her be selfless and creative as she's assisting a family seeking services.
"The people employed here love what we do, and who we work for. Kaleo Supports has not only made a difference in the disabilities community but also in the employees' life," Kelley said. "We are happy coming to work, and therefore make our clients' lives happier as well."
Kaleo Supports hopes to provide more supportive living, independent living and to expand to a community guide which is an advocate for families.
We would like to have a conference room along with some other rooms, where we could get 10 to 12 people, classroom style, have a sensory room to work on sensory issues, an area to work on motor skills, and life skills and such, Szymkowiak said.
It is important that people with an IDD are not secluded and are active participants in the community just like everyone else and they just need a little support to do that, and it's the right thing to do,
she said.
Organizations like these are important to our community because even though it's behind the scenes, it's there for a population that otherwise may not be able to have the best quality of life and it makes us a better and more inclusive community, Black said.
"Kaleo takes great pride, we are an outcome-based service," Szymkowiak said. "I always tell my staff it's not enough to say we did six hours of service, but at the end of the day, what difference did we make in that person's life."
For more information about Kaleo Supports visit http://www.kaleosupports.com or call 910-630-2255.