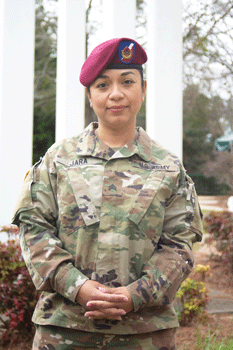 While rank signifies hierarchy and chain of command in the military, it can also be a distinction of excellence and superiority for service to those in the military. In relation to the latter, Methodist University is uniquely qualified, distinguished and honored.
In 2021, MU was awarded Gold Rank status — as a university that sets an excellent example with its programs and initiatives — by MilitaryFriendly® Schools. Methodist is recognized by this national organization annually and is scheduled to receive another superior ranking for its services to military families later this month.
"Our new Gold MilitaryFriendly® designation, recognizes a university-wide effort and commitment to increase educational opportunities, services, and programs to meet the unique needs of our military-affiliated student population," said Billy Buckner, director of MU's Fort Bragg Office. "We are dedicated to serving service members, veterans, and their families with compassion and support they deserve."
Annual recognition is telling, but there are other obvious differences that make MU the best choice for military families. For instance, MU's main campus is just a few miles from Fort Bragg and Pope Army Airfield and the university offers classes on post with its Fort Bragg Office.
MU's Fort Bragg Office is staffed with experienced members who understand the military, and faculty at MU's main campus work with the time challenges often associated with a life spent in service. With an office on post, experienced staff, and educators who understand the unique requirements and needs of service members and their families, MU is uniquely positioned to "Serve Those Who Serve."
Methodist University also has a continued commitment to America's veterans through participation in the GI Bill®'s Yellow Ribbon Program. This significant commitment upholds a long history of MU support for our veterans and their academic and career endeavors.
MU continues to find ways to enhance its academic offerings and develop military-centric degree programs that best meet the needs of its students. In January 2021, Methodist began offering 100-percent online degree programs at both the undergraduate and graduate levels that best serve veterans, spouses and their families.
Catalina Jara Hurtado is a wife and mother who drives trucks for the Army. She will graduate from MU this May with a Business Administration degree. She wants to work in human resources and loves to solve problems. She was recently promoted to Sergeant and has the responsibility of leading 10 soldiers.
The staff at MU's campus at Fort Bragg helped Jara Hurtado with her classes and transfer credits. She received dozens of transfer credits for her military training and education and academic work at other educational institutions. This helped cut her education time almost in half and enables her to earn her degree in two and half years. Jara Hurtado praises Mara Baker, MU's Fort Bragg admission's counselor, with helping her take advantage of transfer credits and tuition adjustments.
"She was very helpful. Mara answered every question I had and walked me through everything I needed to do," said Jara Hurtado.
Jara Hurtado wasn't surprised to discover MU had earned Gold Rank status. She experienced MU's commitment to military families first-hand. The nature of her job often calls her away on missions at unexpected times. She knew military life wouldn't always coincide with university deadlines, but MU's professors — some who are veterans themselves — are empathetic and helpful.
"Whenever I have a schedule conflict, I contact the professors and they are very friendly and understanding," she said. "They're always trying to help me, and I've never had any issues with any professors because of my job."
Another benefit for MU students is having access to the nearby Davis Memorial Library with its vast collection of books and research resources. Jara Hurtado said when she started her MU journey, she visited the library often, but then discovered the power of accessing the catalog online, a big benefit when working from home.
"You can access the library from home with your MU account. I do almost all my homework research online now," Jara Hurtado said.
The fully online programs are just one example of MU's eagerness to bring its world-class education to the military and their families. In addition to new Methodist University fully-online programs, students can continue to attend classes in a variety of modalities to include evening classes where they can earn BS degrees in Entrepreneurship, Environmental & Occupational Management, Leadership Communication, Health Care Administration, Business Administration and Political Science.
"Methodist University Online is a huge benefit for our military-affiliated student population and affords students the flexibility and convenience they need to balance family, work, and school," said Buckner. "Also, MU Online truly addresses the needs of our Special Operations Forces and other service members who serve in military occupational specialties who cannot attend in-person classes because of their military duties."
For more information, contact MU at Fort Bragg: 910-436-3624 or methodist.edu/bragg. Registration for summer classes is open now, and classes begin May 3.
Pictured above: Catalina Jara Hurtado, a sergeant in the Army, will graduate in May with a Business Adminitsration Degree.