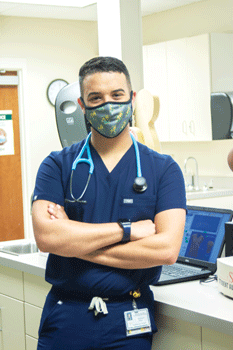 For an institution known nationally for its world-class liberal arts education, Methodist University's Health Science programs have for 25 years forged their own reputation of excellence and become an integral segment of the health care community in the state and region.
MU's Physician Assistant Program has graduated more than 650 PA's since the program's inception with more than half of the class of 2020 remaining in Southeastern North Carolina to alleviate the shortage of health care providers. MU graduates are answering the call by choosing to stay in North Carolina in order to make a difference in their
communities.
Justin Scott is from Robeson County and a first year student in MU's Physician Assistant program. He served as an EMT before deciding to enter the PA Program. He wants to see his patients' recovery journey through to the end and discovered within himself a passion of caring for patients.
"Being a PA allows me the continuity of care from the initial encounter all the way up if they are being transferred to another center, or being discharged from the hospital," Scott said. "I like the idea of being able to build relationships with my patients."
Scott wants to make an impact in the community, but first he must study hard and get through the difficult, but rewarding, program at MU. Students are introduced to a wealth of knowledge from expert faculty, and in the first two years they will study physiology and anatomy, behavioral medicine, cardiology, OBGYN, and emergency medicine.
When one classmate is weak on a particular topic, another classmate who may be strong in that area will step in and help. The PA class cohort of students forge close bonds and often become life-long friends.
"There are days when an exam may be particularly difficult and a classmate will step in to encourage you," he said. "It's because they know exactly what you're going through. It helps build some close relationships."
Kara Hiendlmayr knows the challenges to be excellent that Scott is going through. Hiendlmayr graduated from MU's PA program in 2018 and today is practicing as a physician's assistant in cardiology at the Fayetteville Heart Center.
Hiendlmayr, who is from Maine, was a pharmacy student and had a revelation she wanted more out of her health care profession.
"I wanted a more proximal role in health care and listening to the patient," she said. "I love patient care and wanted more of a complete role in their care than simply dispensing medication … MU's PA Program trains you to be many things. After graduation you can go into family medicine, OB-GYN, or cardiology for example. You'll acquire experience and training to go in any direction. You graduate with options."
Today, Hiendlmayr lives in Fayetteville, but also travels to work in Dunn, where she enjoys making a difference in people's lives providing full comprehensive health care.
Like Hiendlmayr, Scott loves the options afforded to him through the vast training at MU. He enjoys working with children, but lately has been leaning towards the area of cardiology. He was standing in the MU Cavender Lab and was holding a human heart in his hands when he fell in love with cardiology. He remembers the moment his goals shifted with keen fascination.
"The human heart is fascinating, the number of things that can go wrong and affect your whole body is numerous," he said. "How to treat those has been a highlight of study for me so far."
Dr. Christina Perry, the PA program director at MU said she remembers that day Scott stood there holding a heart in his hands.
"The look on his face was one of complete fascination and excitement," she said.
It was MU's experiential learning that opened the door for Scott. "It's one thing to hear a lecture with a slide show, and another to hold a heart in your hands," he said.
The Cavender Lab is one of the strategic assets that sets the MU program apart from many in the region. While dissections are often carried out by professors at other schools, at Methodist the students perform the dissections, gaining valuable hands-on experience.
Though MU has state-of-the-art facilities, it's the program's faculty that Scott and Hiendlmayr credit the most for their passions of giving back and serving the community. The faculty in MU's PA Program train and encourage their students to love and connect to their community. Giving back and connecting makes them better health care providers.
To learn more about the PA Program at MU, visit Methodist.edu/paprogram
Pictured above: Justin Scott is a first year student in the Physician Assistant Program.