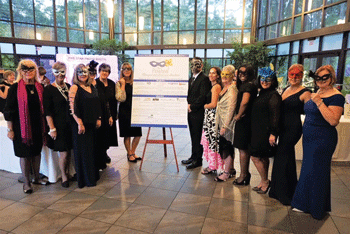 Based on national best practice and research, the Child Advocacy Center was founded in 1993 by a group of concerned local professionals seeking to coordinate services provided to child abuse victims and their families. The CAC provides a safe and child-friendly environment where professionals from community agencies come together to interview, investigate and to provide support for abused children and their families.
This results in a collaborative approach of professionals from Child Protective Services, the District Attorney's office, law enforcement, Guardian ad Litem, Military Family Services, social workers, victim advocates as well as medical and mental health professionals to provide a coordinated, comprehensive response to victims and their caregivers.
By having a collaborative approach, the CAC reduces the number of interviews for child victims of abuse by providing specially trained professionals to conduct forensic interviews in a centralized location. National research has determined that this type of coordinated approach can help alleviate trauma for children, increase the prosecution rate of perpetrators, and be fiscally beneficial to the community.
In fiscal year 2020, the CAC served 876 children and their non-offending family members and saved the community an estimated $700,000 through its multi-disciplinary team approach. In addition, the Child Advocacy Center provides education to the public and professionals on preventing, detecting and reporting child abuse.
Unfortunately, the center has seen an increase in the need for services while at the same time being financially affected by not being able to host their two signature fundraising events during the pandemic in 2020 — the Fayetteville Ultimate Lip Sync Show Down and the Pinwheel Masquerade Ball & Auction.
As many students have returned back to school in person, we anticipate an even higher increase in the number of cases reported to the CAC. Now more than ever, we need your support.
The Child Advocacy Center is a local 501(c)(3) nonprofit organization funded through the generosity of corporate, state, organization and foundation grants; corporate and individual donations; in-kind contributions; and event sponsorships. There is no charge for services provided to child victims of abuse referred to the CAC.
Thankfully, the Child Advocacy Center was recently granted a $10,000 "All or Nothing" challenge grant from the Simply East Anonymous Trust Challenge Grant.
The challenge grant is for $10,000; however, the challenge is that we must raise at least $10,000 in order to receive the matching grant from Anonymous Trust. If we do not meet the $10,000 in donations, we will not receive the matching challenge grant. The purpose of this grant is to raise funds from new donors, increased gifts from individuals, corporations, foundations and churches.
The Challenge Grant will run through July 31, 2021. Donors may participate as a new donor or an existing donor. Every dollar that is raised will be matched. New donor donations and existing donors, who increase their giving from the year before, will be matched dollar to dollar. This is another way you can be a part of supporting the work of the CAC in our community.
There are also additional ways that you can donate to the CAC, such as through our beautiful Tribute Murals.
Tribute Murals offer a unique way to celebrate, honor or remember special people and occasions.
Currently we have The Giving Tree Leaves Mural and/or the Twinkle, Twinkle Little Stars Mural. You may make a donation for the children served by the CAC and have your gift recognized as part of our beautiful tribute murals. The murals were created by local artist Cornell Jones, and they are on the walls of the reception area and the board/conference room.
While April is nationally recognized as Child Abuse Prevention Month, we know that the mission and vision of our work continues throughout the year and as such, communities are encouraged to increase awareness about child and family well-being, and to work together to implement effective strategies that support families and prevent child abuse and neglect.
To make a donation or to learn more about how you can become involved, please visit CACFayNC.org. We sincerely appreciate your support.