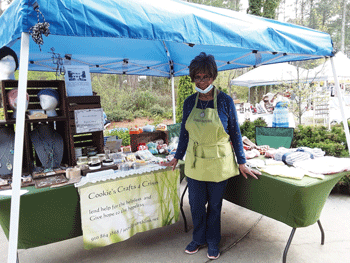 Every 73 seconds an American becomes a victim of sexual assault, according to RAINN, the Rape Assault Incest National Network.
The month of April is recognized as Sexual Assault Awareness Month, or SAAM, and many groups continue to raise awareness of these crimes and prevention efforts. Many organizations offer resources locally for victims and their families
affected.
One local organization has been working since 1976 to achieve zero tolerance for crimes of sexual violence and to reduce its trauma. Rape Crisis of Cumberland County was established to provide services to victims of sexual assault, and they now also assist those affected by domestic violence and human trafficking.
The agency's team consists of several victim advocates including cold case, sexual assault and domestic violence advocates and the directors and volunteers to provide direct victim services, and a contracted counselor. They offer free services to those in need, and assistance is not contingent upon a police report.
"We have a 24-hour crisis line that is staffed either with staff members or volunteer advocates, holidays, weekends, 2 o'clock in the morning — whenever someone might need to reach out and talk to us," said Deanne Gerdes, executive director Rape Crisis of Cumberland County.
Some of the services offered include hospital calls where advocates respond to victims in the hospital and walk them through the steps of the rape kit, their rights, address what happened, help identify medical needs and more.
"Since the beginning of the pandemic, the number of cases [reported] has been very low," said Gerdes. "I don't think the crime has dropped, but because people in the beginning of the pandemic were unsure who was open, or how to safely make contact and they were stuck at home, there's been a dip in reporting. But in the years to come we will have those numbers figured out."
The organization receives its funds from the Governor's Crime Commission, North Carolina Council for Women, the Department of Justice and donors.
Board member and volunteer Juaneza Vivian raises money by selling arts and crafts from her business "Cookie's Crafts 4 Crisis."
"When I started the funding was low, and all my proceeds go to RCC," Vivian said. "My mission is to help eradicate sexual assault the best I know how, selling my crafts to give into RCC is my way of helping."
Matthew Kelley, a victim advocate of four years said he responds to emergency room calls and provides support to victims.
Advocates ask if they have a ride home, if they're going home to a safe environment, or if they have clothes to leave the hospital with, Gerdes mentioned.
"Advocacy is really what we do, and it looks completely different for everyone," Gerdes said. "We explain resources, their rights, what options they have as far as law enforcement or military or job related issues. We do leave it up to individuals to determine their path, we don't create their path for them."
The victim advocates also attend court appearances with victims if needed, walking them through the courthouse
proceedings.
"It's scary to even figure out where parking is at the courthouse, it's scary to walk in and we know that. We actually walk them through, so we'll meet them in the parking lot or at the agency," Gerdes said. "We understand the courthouse website and where to be."
Rape Crisis currently offers virtual support groups for victims during the pandemic, along with in-person counselling. In situations where the victim doesn't have a safe place to go to, they offer funds for travel and a short-term hotel stay.
The organization takes on cold cases as well, where someone doesn't immediately come forward following an assault. The state of North Carolina has no statute of limitations for rape.
Gerdes said they helped 560 individuals in the year before the pandemic. While the ratio of men to women survivors differs by location and there are lower reports in men possibly due to stigma, the crisis center sees more male victims from
Fort Bragg.
U.S. Air Force units located at Pope Army Airfield on Fort Bragg offer various services and help victims of sexual assault through their Sexual Assault Prevention and Response, or SAPR, program for active-duty members and their family members. These services include restricted reports, medical, mental and behavioral health services, and legal aid.
The SAPR office does not provide mental health services in-house, but connects victims with those services located at Womack Medical Center and mental health services available outside post, said SAPR Victim Advocate Elenah Kelly.
"Sometimes victims feel uncomfortable seeking mental health services on post in concerns with their records or further employment," she said. "So as a victim advocate it is my responsibility to give them options like the Vet Center, and Steven Cohen Military Family Clinic at Cape Fear Valley where there are no records kept and doesn't require any payment for veterans."
Another service they offer is the Special Victims Council, which connects the victim with a legal representative to understand their rights, options if and when they want to report the assault, and launch an investigation.
"We have two reporting options, restricted and unrestricted," SAPR Coordinator Karen Smith said. "When we have a restricted reporting option that means a person can make a confidential report, we are not mandated to report to law enforcement or command. Unrestricted type is where the victims choose to report it, they want it investigated, and want to hold the subject accountable."
The SAPR program offers an expedited transfer for victims that make a report to relocate them if needed.
"We also offer protective orders," Kelly said. "There's the military protective order which covers the military post, mandated by the commander, giving the victim a protective order from their perpetrator."
Smith said that a resource offered to all branches of the military is the DoD Safe Helpline, and the app can be found on the app store for military members and
dependents.
"It is 100 percent confidential and anonymous, available 24-7, you can call, text," Smith said. "Sometimes it may be 2 or 3 o'clock in the morning and you can't sleep and you're having triggers, that DoD Safe Helpline is a great resource, and that number is 877-995-5247."
The SAPR team has been hosting many events as part of sexual assault awareness month. Some of the events include a virtual 5k, promoting wearing teal, the color for SAAM. The Respect the Rock event found members painting rocks teal with messages on them spread throughout the base. They also hosted a door decorating contest, where participants decorated doors to spread the message of sexual assault awareness.
There was also a kickoff video where several unit commanders joined the SAPR team for a message about being the one, protecting our people and protecting our mission. The video encourages everyone to be the one to step in, to be the one to see something, say something, be the one to help someone in need. On April 28, they are celebrating International Denim Day and encouraging folks to wear denim.
Smith echoed the message from the video that we all have a responsibility to be the one to help others in the community when possible.
Gerdes from Rape Crisis Center said often the best thing the community can do in terms of support for the victims is understand them and believe them.
Victim advocate Matthew Kelley said prevention remains a key when addressing sexual assault.
"Instead of teaching people when to go out, what to wear, we should be teaching people about what consensual sex actually is and raise and educate people to not commit these crimes," Kelley said.
Some of the other organizations that survivors can seek help in Cumberland County are the Care Center, Fayetteville Police Department and the Child Advocacy Center.
"We have a great sexual assault advocacy team in Cumberland County, and I am really, really proud of it," Gerdes said. "Law enforcement, prosecutors, district attorneys, legal aid and when I say we are a team, we are absolutely a team — we hold each other accountable. And we are all very victim-centered and that's wonderful."
Local Area Resources
Rape Crisis of Cumberland County
519 Ramsey St., Fayetteville
24-Hour Local Hotline: 910-485-7273
National Sexual Assault Hotline:
1-800-656-4673
Pope Army Airfield SAPR 24/7
Hotline: 910-394-7272
www.facebook.com/PopeSAPR1
Fort Bragg Army SHARP Hotline: 910-
584-4267
Fayetteville Vet Center, 2301 Robeson
St. #103, Fayetteville, 910-488-6252
Cohen Clinic: 910-615-3737
SAFE of Harnett County
Crisis Line: 910-893-7233
www.safeofhc.org
Hoke County Domestic Violence and
Sexual Assault Center, 225 S. Main St.
Raeford Crisis Line: 910-878-0118
Friend to Friend: Carthage
Crisis Line: 910-947-3333
www.moorefriends.org