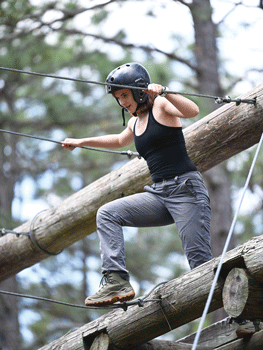 On a normal day at Camp Mackall, hundreds of soldiers seeking to join the elite ranks of Army Special Operations, are running, rucking, climbing and utilizing logic and intelligence to solve problems. On May 6, things looked a little different as the U.S. Army John F. Kennedy Special Warfare Center and School's Family Programs hosted a Spouse Q-Course, which brought the spouses of Special Operations soldiers, cadre and students to the training ground to walk a mile or two in their soldiers' boots.
Dee Ann Rader, the Family Resiliency Coordinator for Family Programs, greeted the spouses with a big smile. "This is going to be a great day," said Rader. "Nothing but good vibes today. I know the spouses are going to have a great day, and that the SWCS cadre will do a great job."
Rader's enthusiasm was matched by the spouses who came in groups and began to mingle immediately. The spouses were excited and their energy filled the room. "This is really a great day to have this event," continued Rader. "Tomorrow (Friday, May 7) is Military Souse Appreciation Day — so we couldn't have chosen a better day."
The event is one of many family events that is funded by One Team. One Team is an Army funded inclusive program intended to fill in gaps in readiness of SWCS student spouses and families, with the goal of providing resources, training, connections and mentorship to build a firm foundation of knowledge, strength and resiliency as they move forward in the Special Operations community.
The group was welcomed to Camp Mackall by Maj. Jacob Wachob, acting commander of 1st Bn., 1st Special Warfare Training Group. 1st Battalion is in charge of ARSOF Selection and Assessments, as well as the qualification courses for Civil Affairs, Psychological Operations and Special Forces.
"We hope this will be a fun and educational day for you," he said. "You are going to face some challenges, try some good food and have the opportunity to see and do things that you have not done before. Bite off what you can chew — figuratively and literally — and we hope you have a great day."
"Nasty Nick" is the world-famous obstacle course that stretches across Camp Mackall. Prior to beginning their day, the spouses watched a video that describes the course. Looking across the room, the spouses looked on in trepidation, but also in excitement.
"You are going to get to do things today that most people won't ever get to do. The obstacle course assess your strength, agility and forces you to conquer your fears," a member of the cadre explained.
Prior to tackling the obstacle course, the spouses spent time at the SERE Compound. SERE (Survival, Evasion, Resistance and Escape) is a training program that prepares U.S. military personnel, Department of Defense civilians and contractors to survive and "return with honor" should they ever be captured by enemy forces.
At the SERE compound, the spouses were divided into teams — much like the small teams Army Special Operations Soldiers operate in while deployed — to move through various areas of the training, including weapons, trapping and survival techniques. They also had a chance to check out the "Road Kill Café."
At the trapping location, spouses learned how soldiers were trained to find water and food if they were ever caught behind enemy lines. A member of the cadre explained that students are taught to focus on protein, noting that students are taught about animals that they can find in various areas of the world, and were shown number of ways of trapping an animal using things you find around you like a rock or string. He explained that a soldier may set 12 traps, but percentage wise would only get one hit, noting that they are looking for smaller animals such as squirrels, rabbits and even rats.
Jessica, whose husband is in the Civil Affairs Qualification Course, signed up for the event because she "wanted to see first-hand what her husband was going through" so she could "relate to the stories " her husband shared with her about his training. "This gives me perspective on what he is doing, and I can understand what he is talking about."
At the weapons station, they learned that weapons can be made from just about anything, including rocks and sticks. They were given the opportunity to use a couple of the weapons, the first, called a "rabbit stick," is quite literally a heavy stick that is thrown in a lateral movement at a small animal. The next weapon was a man-made spear that was launched with an atlatl, which is a tool that uses leverage to achieve great velocity.
Elle, a vivacious brunette, was the first to jump at the chance to throw the rabbit stick. Her throw was not on the mark — or even near it — but she laughed at how bad her throw was. "My husband is in the Special Forces Qualification Course, and when I heard about this, I jumped because I wanted to understand more about what my husband was doing. By doing this, I can connect on a different level having seen for myself what he talks about. I really never thought I would have the opportunity to do this."
Jamie's husband has been in the Army 8 years, and is now in the SFQC. "This is the first time I've gotten to see Camp Mackall and having the opportunity to experience new thing and meet new people sounded great to me. It is also pretty neat to learn how make a weapon from thing you pick up off the ground."
While most of the attendees were not successful with the atlatl, Jewels, a former soldier, and athlete, hit the target dead center multiple times. "I'm really interested in what he has been doing, and while I am prior military it's cool to see the SOF side of the house. This is a good group of women, and we are having a lot of fun together."
The bonding of spouses is one of the goals of Family Programs. Carolyn Roberson, the Senior Advisor to Family Programs, is the spouse of Maj. Gen. Patrick Roberson, the SWCS Commander. Having lived the Army life, Carolyn explained that the bonds between military spouses are important, particularly when soldiers are deployed or away at training. She noted that having a support system of people who know what you are going through is key to navigating Army life. Having helped plan the event, she was excited to see the bonds that were formed by the spouses and their willingness to try new things and tackle obstacles.
Prior to leaving the SERE area, the attendees had a chance to taste the offerings of the "Road Kill Café." The day's menu was comprised of beaver, otter, goat, deer and raccoon that was cooked by the cadre. The majority of the spouses at least took a bite or two of the offerings, with one woman noting that it "wasn't that bad."
Elia is a native of Colombia, but her husband is a Special Forces Medic, who previously served in 7th Special Forces Group (Airborne), but is now an instructor at the Special Warfare Medical Group, which trains ARSOF medics.
"When we were in Colombia, I didn't get to see or know much about what he did and didn't have the opportunity to see it," she said. "So I wanted to come out and see and learn."
The excitement grew as the six teams approached Nasty Nick. While some of the attendees were hesitant as they approached the obstacle course, Aisha grew more excited. "Specifically, I wanted to see these obstacles."
She not only saw them, she also got a chance to climb them, cross them and vault across them (the vault wasn't very successful); however, the teams came together to lift, push and pull one another across – which is symbolic of the way spouses support one another while their soldiers are deployed: They come together as "one team."
(All photos by K. Kassens, U.S. Army John F. Kennedy Special Warfare Center and School.)