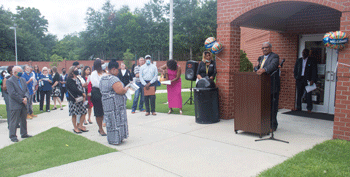 Cumberland County joined RI International and Alliance Health to celebrate the opening of the Cumberland Recovery Response Center, formerly known as the Roxie Center, with an open house
July 19.
The Cumberland Recovery Response Center is a crisis facility for behavioral health including mental health stabilization and substance abuse detoxification. The center opened in May 2020 and has already served more than 1,400 individuals.
The open house was delayed because of COVID-19 restrictions.
The Cumberland Recovery Response Center features a 23-hour unit with 10 chairs and is awaiting state approval for a 16-bed crisis unit. The center is staffed by mental health and medical professionals as well as peer support staff who have life experiences with crisis situations.
The center, located at 1724 Roxie Ave. in Fayetteville, operates 24/7 for individuals 18 years or older who are experiencing a crisis. First responders may drop off patients experiencing a mental health or substance abuse crisis directly at the recovery response center instead of a hospital emergency room.
RI International has contracted with Alliance Health to operate the center. Alliance Health is the managed care organization for publicly funded behavioral health services for Cumberland, Durham, Johnson and Wake counties.
"This has been a labor of love and something truly needed for our community," said Glenn Adams, vice chairman of the Cumberland County Board of Commissioners and a member of Alliance Health Board of Directors. "It is about collaboration and all of us working together to make sure we meet the needs of the underserved and those in our community."
Guest speakers included Victor Armstrong, director of the North Carolina Division of Mental Health.
"As an advocate for individuals living with mental health challenges, developmental disabilities and who struggle with addiction, I am always pleased to see when we create new and better avenues for access to those who need the services that we all strive to provide," Armstrong said.
"I want to thank the Cumberland County Board of Commissioners for their ongoing commitment and funding to behavioral health services," said Alliance Health CEO Rob Robinson. "The funding they provide is critical to provide service individuals who are uninsured or do not have the means to pay."
A video of the open house ceremony can be viewed on the County's YouTube channel at https://www.youtube.com/watch?v=bzou0LZs3h4.
For more information about the Cumberland Recovery Response Center, visit https://riinternational.com/listing/cumberland-recovery-response-center-fayetteville/ or call 910-778-5900.
To learn more about Alliance Health and services for people who are uninsured or insured by Medicaid, visit https://www.alliancehealthplan.org/.
Pictured above: Cumberland County Board of Commissioners Vice Chairman Glenn Adams speaks at the open house held July 19. (Photo courtesy Cumberland County Commission)