Fort Bragg is calling out to the military community and public to donate boots for the annual boot display in remembrance of those who have lost their lives since 9/11.
The boot display is traditionally held in May to align with the Memorial Day observance. This year, the observation will coincide with the "Run, Honor, Remember 5K" memorial run on Aug. 28 and the All American Run on Aug. 30 for the 82nd Airborne Division's All American Week.
"We are in need of 1,000 pairs of any and all types of military boots in good condition," said Elvia Kelly, spokeswoman for the Fort Bragg Garrison Public Affairs Office. "We're asking the community to donate any of their unwanted or unused military boots to help us honor and remember fallen service members."
Each boot displayed at Hedrick Stadium represents an active-duty service member who has fallen since 9/11. Volunteers prep the boots by carefully tying each lace and placing an empty bottle of water inside the boot as a foundation to hold its form.
The boots are lined up in rows across the field, where volunteers attach a personalized tag with a photo of a fallen service member and includes a unit and date
of death.
"In addition to attaching personalized tags, volunteers place an American flag in each boot," said Kelly. "It takes six to eight hours to setup the boot display on the field."
Due to extreme weather in the past years such as rain, there has been a breakdown of the boots and about 4,600 boots were discarded due to damage.
Currently it takes over 7,500 individual boots to complete the memorial display at Hedrick Stadium and Fort Bragg needs 1,000 more boots to reach their goal of representing all the fallen service members.
The deadline for the boot donation is on or before Aug. 13, which allows Survivor Outreach Services and volunteers to prep the boots for display.
"The memorial boot display is open to everyone who has a Department of Defense ID card or those who can obtain a visitor's access pass from the All American Visitor Center," Kelly mentioned. "The display setup begins Friday, Aug. 27 and the boots will remain on the field until Monday, Aug. 30."
"It's a powerful sight to see the memorial boot display when doing a run around Hedrick Stadium or walking across the field seeing each individual boot after being carefully prepared by volunteers," said Kelly.
"The field is lined up with boots in order beginning from 2001 to 2021 with a photo and identification tag."
Fort Bragg began setting up boots as a memorial display in May 2014, marking this year as the 7th anniversary for the display that is hosted and coordinated by Survivor Outreach Services in honor of all fallen service members who were on active duty since 9/11 and service members who died in an incident such as a training accident or illness on Fort Bragg and North Carolina.
"The event is an opportunity for the community to remember those who have paid the ultimate sacrifice serving our nation by participating in the run or visiting the memorial boot display," Kelly said.
The Survivor Outreach Services is part of the Army Casualty Continuum of Care and is designed to provide long-term support to surviving families of fallen soldiers.
"The program offers assistance such as support coordinators to surviving family members during a time of tremendous grief," Kelly said. "Our goal is to reassure survivors feel they remain valued members of the Army family."
Boots can be donated on Fort Bragg at the following locations:
-Soldier and Family Readiness Group Center, 236 Interceptor Road, Pope Army Airfield
-Soldier Support Center Main Lobby in Bldg. 4-2843 on Normandy Drive
-Survivor Outreach Services, Building 4-2133 on Normandy Drive
Boots can also be dropped off at the Up & Coming Weekly office located at 208 Rowan St. in Fayetteville no later than Aug. 12.
For additional information or questions, the community can contact Survivor Outreach Services at 910-396-0384 or visit their website at https://bragg.armymwr.com/programs/sos.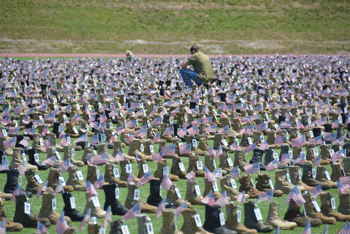 Pictured: The annual memorial boot display will be held in August this year and will coincide with the "Run, Honor, Remember 5K" run and the 82nd Airborne Division's All American Week. (Photos courtesy Fort Bragg Garrison PAO)