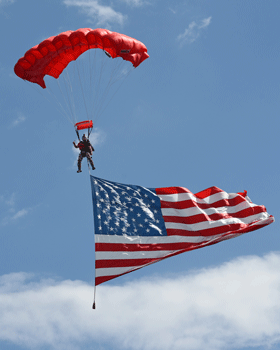 The Special Forces Association Parachute Team was originally formed as the Green Beret Sport Parachute Club in 1961. The team is now a non-profit organization that shares the heritage of the Special Forces Regiment and works to highlight the service and sacrifices of military personnel and their families.
The team consists of active duty and retired military and includes Department of Defense support elements. The SFA Parachute Team maintains a nucleus of professional parachutists who perform free fall parachute demonstrations in support of local and national venues such as celebrations, sports events and holidays. Some venues include the Great American Shoot Skeet, Carolina Panthers football games and NASCAR events.
The team works closely with other non-profit organizations such as Special Forces Charitable Trust, Green Beret Foundation, Low Country Foundation for Wounded Military Heroes and Upstate Warriors.
Team members say their participation in public events and their tandem jumps help remind veterans and first responders that they are still valued members of society. The SFA Parachute Team relies on sponsorships for equipment purchases and tandem experiences for Wounded Warriors.
"Sometimes soldiers come back from deployment either physically wounded or they are experiencing wounds we can't see. They sometimes feel forgotten or like they have no purpose in this world now that they are impaired or broken. So, my team, we strap them to tandem and remind them that they are important and still have that type A personality," said Stanley "Bo" Kinnison, a member of the team since 1999.
Kinnison, who has 3525 jumps, said training is a crucial step for the men and women who jump on the team.
Once accepted on the team, Kinnison said a jumper will receive additional training that will build on the skills taught in either the Army's Basic Airborne Course or the Military Free Fall Course. As parachutists have undoubtedly gained proficiency during their active jump status time in the military, Kinnison said additional training once on the SFA Parachute Team will increase overall proficiency.
Training for the team includes night jumps, water jumps, smoke jumps and flag jumps, as well as multiple accuracy jumps. Accuracy is something that is practiced in almost every jump, but accuracy jumps for a demonstration team require a parachutist to land in a specific area — usually within a 30-foot circle.
For more information on the SFA Parachute Team visit http://sfapt.net/.
Pictured below left: Bill, holding football, and Brenda Gatter finish a demonstration jump. The team also conducts tandem jumps with Wounded Warriors. (Photos courtesy Special Forces Association Parachute Team)