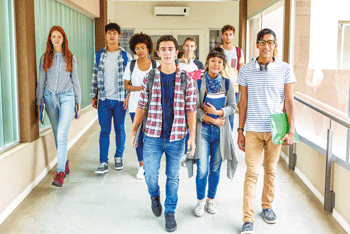 Fayetteville Technical Community College's High School Connections program provides high school students the option to begin earning college credit while still in high school.
HSC offers more than 30 Career and Technical Education certificate programs that lead to entry-level job credentials/certificates. These pathways provide essential knowledge, technical capabilities and employability skills for career success that bridge workforce gaps by linking secondary and post-secondary curriculum.
This summer, FTCC Foundation received two grants from local organizations that will be used to create a resource fund for the HSC program
at FTCC.
Cumberland Community Foundation awarded a Community Grant in the amount of $20,000.
The United Way of Cumberland County awarded the Foundation a $15,000 grant through the Youth Growth Stock Trust.
FTCC Foundation partners with donors to support FTCC by raising awareness and financial resources that can provide college access for students to attain their educational and career goals.
The HSC Resource Fund will provide funds to pay for books and program supplies for high school students from low-income families who wish to continue their education beyond high school. This project will be offered community-wide and will leverage resources by providing long-term solutions to low-income students by increasing their job opportunities through higher education and job skills. The goal for the resource fund is to overcome financial barriers and increase educational access.
Aaron Mabe, coordinator of the HSC program at FTCC, noticed that for many students attending Title I high schools or residing in economically distressed communities, the cost of supplies and materials was a barrier to successful program completion.
"These grants will provide access and equitable opportunities for students who wish to learn marketable job skills and valuable trades. Without these resources, many students would not be able to afford the books and tool kits needed to take the classes. We are grateful for the support from Cumberland Community Foundation and the United Way," Mabe said.
Dual (high school/college) enrollment courses provide a wide variety of exciting offerings to high school students including photovoltaic, collision repair, welding and construction management.
These programs allow students to complete a certificate or diploma aligned with in-demand state, regional and/or local workforce needs.
While traditional transferable college courses require textbooks or lab kits, the majority of career and technical education programs require additional supplies to instruct skill mastery.
FTCC's academic departments work diligently to accommodate the financial cost of program supplies and minimize the substantial out-of-pocket cost to students. For many students attending Title I high schools or residing in economically distressed communities, the cost of supplies and materials is a barrier to successful program completion.
According to U.S. Census Data (from 2019), prior to the pandemic, median household income in Cumberland County averaged around $45,000 with 17% of families living in poverty.
There are 13 public high schools in Cumberland County. The percentage of their student body considered to be economically disadvantaged ranges from 34.6% to 69.7%, with an average of 55%.
To learn more about FTCC's High School Connections program, please visit www.faytechcc.edu/academics/high-school-connections/ or call 910-678-8583.