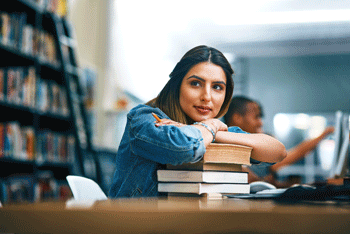 The Student Learning Center at Fayetteville Technical Community College is a source of positive encouragement and support for all current and future FTCC students. Students who visit the SLC find a place to ask questions and receive assistance without feeling embarrassed or inadequate.
Whether a recent high school graduate or one who hasn't been in class for twenty years, students are welcomed and made to feel comfortable at the SLC. Staff encourage independent learning and provide students with tutoring and supplemental instruction to deepen their comprehension of key concepts.
At the SLC, there are 10 qualified instructors ready to support students as they pursue academics. Instructors in the SLC work to bridge the gap between learning and understanding. Each instructor has a higher education degree and has worked closely with adult learners for many years. SLC staff facilitate learning in the areas of English, math, science, Spanish and much more. The staff is invested in student success and constantly encourages students to not give up on achieving their academic goals.
Students learn differently, and the SLC staff understands the challenges students face each semester. In fact, SLC staff members encourage students to visit the SLC as soon as they have a question or feel assistance is needed, rather than delaying. Students are provided a welcoming atmosphere with comfortable seating, computers, laptops and group instruction rooms. Additionally, the SLC has mobile whiteboards and whiteboard tables to promote interactive learning. Students can also use the SLC as a place for study between or after classes.
In addition to one-on-one tutoring offered in the SLC, NetTutor Online Tutoring Service is available for students. NetTutor is available 24 hours a day, seven days a week. The tutoring service is available through FTCC student Blackboard accounts. The SLC has specialized labs for math, science and writing. These labs offer students one-on-one experiences within a more focused setting.
Throughout the COVID pandemic, the SLC maintained CDC guidelines and safely remained open to provide face-to-face services to FTCC students. For students who were unable to visit campus during the pandemic, the SLC offered students virtual tutoring appointments, enabling students to continue to receive personal assistance.
Using the SLC is free, and no appointment is necessary. Students simply present the FTCC student ID card for easy access at the sign-in kiosk. Virtual sessions are also available for FTCC students by contacting the SLC via phone call or email.
The SLC is located inside the Harry F. Shaw Virtual College Center at the Fayetteville campus. Hours of operation are Monday-Thursday 8 a.m. until 7 p.m. and Friday 8 a.m. until 5 p.m. Students may direct questions about the SLC to learningcenter@faytechcc.edu or 910-678-8266.
Join us for fall semester at Fayetteville Technical Community College for an amazing academic journey.