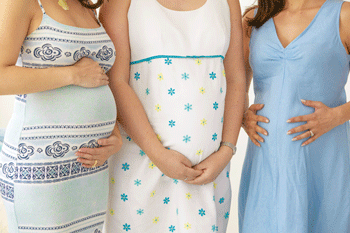 Recent research is supporting the safety of COVID-19 vaccinations for pregnant women. Though pregnant women were excluded from the initial clinical trials for the vaccines — as is standard practice for all vaccine trials — almost 140,000 pregnant women have voluntarily joined the CDC's V-safe COVID-19 Vaccine Pregnancy Registry since December, 2020.
Cape Fear Valley Perinatology's Maternal Fetal Medicine specialist Stuart Shelton, M.D. said this is an issue that has come up a lot lately with his patients. Dr. Shelton is the only maternal fetal medicine specialist, or perinatologist in Cumberland County. He has been practicing in Fayetteville 19 years.
"So far, the data show no increased risk of miscarriage, birth defects, preterm birth. or stillbirth," Dr. Shelton said. "Basically, there's no increased risk of any adverse pregnancy outcomes. Data are still being collected and analyzed."
Shelton said he tells all his patients the same thing when they ask about getting a COVID-19 vaccine.
"I think the vaccine is safe, and I tell the patient that her risk of pregnancy complications is much higher if she gets COVID infection than it is with the vaccine," he said. "And right now, we don't know of any increased risks associated with the vaccine. If it was one of my family members or friends, I would highly recommend they get the vaccine without any reservation."
That's not just his personal opinion. The American College of Obstetricians and Gynecologists and the Society for Maternal Fetal Medicine have highly recommended the vaccine for pregnant women and lactating women.
"And the reason for that is they feel the vaccine is safe, and we know that if a woman gets COVID while pregnant, she has a higher risk of complications," Stuart said.
"Pregnant women with COVID-19 have a three-times higher risk of being admitted to the ICU, and about two to three times higher risk of being on a ventilator. Their chances of dying from complications of COVID, compared with a woman who is not pregnant, are about twice as high."
Shelton said that the Pfizer and Moderna vaccines are the best choices for women of childbearing age because of some very rare complications that have occurred in reproductive-age women who received the Johnson & Johnson vaccine.
Those complications were not related to pregnancy. However, the best choice for any person is the vaccine they are willing to take. For some women with severe needle phobias, the one-shot advantage of the Johnson & Johnson vaccine could make it the right choice for them.
Though Dr. Shelton typically sees women who are already pregnant, he says rumors that vaccines cause infertility are unfounded based on available evidence. As noted by ACOG, given the mechanism of action and safety profile of mRNA vaccines (Pfizer and Moderna), COVID-19 mRNA vaccines are not a cause of infertility.