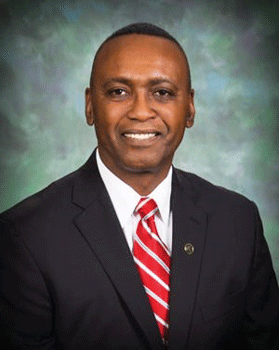 Cumberland County Commissioner Charles Evans says he hopes to replace Rep. Richard Hudson, R-NC, as North Carolina's 8th District Congressman.
Evans currently serves as chairman of the board. In a statement on his congressional campaign website, Evans said that people often complain the two major parties "seem almost indistinguishable."
He filed with the Federal Election Commission in the spring and has been fundraising.
"Under the new administration and what our president is trying to do to assist those of us that aren't as fortunate as others — that's been my advocacy for a long time, since I've been in the political arena," he said.
With the 2020 Census, North Carolina will add a 14th congressional seat to the U.S. House of Representative. The tar heel state's Republican-majority General Assembly will redraw the map.
Evans has been elected countywide three times since 2010. He also served two terms on the Fayetteville City Council from 2005 to 2009.
Pictured: Charles Evans, Chairman of the Cumberland County Commission