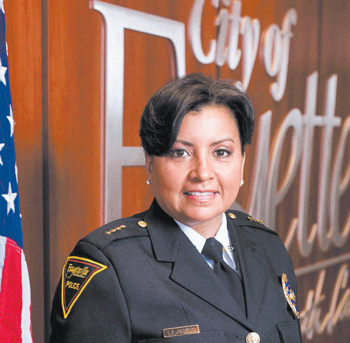 Fayetteville Police Chief Gina V. Hawkins presented 400 Nightlock® door lockdown devices to Cumberland County School Superintendent Marvin Connelly, Jr. earlier this month in support of Cumberland County schools' safety and security project.
CCS began installing the devices last year with money provided by the State of North Carolina.
The donation from the FPD brings the total number of devices installed in local school classrooms to more than 3,400.
"We all know, what's really important to us is our children, and making sure they're safe all the time," Chief Hawkins said.
The police department used $20,000 of grant funds to purchase the door locks to assist in plans to respond to potential active shooter situations.
"We appreciate Chief Hawkins and The Fayetteville Police Department for their continued support of Cumberland County Schools," said Superintendent Connelly.
For information about the CCS Safety & Security program visit their website- www.ccs.k12.nc.us/domain/1630.