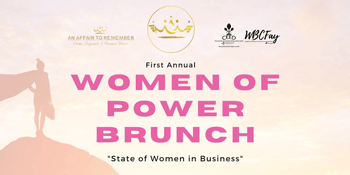 A brunch for women leaders by women leaders. The Women's Business Center of Fayetteville, part of the Center for Economic Empowerment & Development, will be hosting a networking event at the end of October that will focus on connecting women entrepreneurs with each other. The theme for the first annual Women of Power Brunch is the "State of Women in Business."
Caitlin Chastain, the Business Consultant for the Women's Business Center of Fayetteville, says the goal of the event is to create an overall understanding of how women in the county are doing.
"We want to create a dialogue of what is going on with women in business, what is going on with women in leadership in Fayetteville," Chastain said. "We really want to start recognizing women entrepreneurs and women in business in our city that often get overlooked."
Another one of the goals of this networking brunch is to create mentorships for younger women and for women who are new to the area, including military wives.
Chastain hopes women will leave with a sense of motivation, inspiration and an understanding and awareness of how they can better themselves. By doing that, these women can then better the community.
"They can get educated on facts in our community on women in leadership, get inspired by entrepreneurial stories, and can have fun networking," Chastian said.
According to the U.S. Census, women-owned businesses make up little more than 41% of all businesses in Cumberland County. In Fayetteville, that number rises to at least 43%.
This event also launches the partnership between An Affair to Remember and the WBC of Fayetteville to celebrate and acknowledge female leaders making a difference in the local community.
The owner of An Affair to Remember is Mayor Pro Tem Kathy Jensen and she will be speaking at the bruncheon about her Women of Power Society, a group that hosts a local local fashion show, and her entrepreneurial path to success.
Jensen will be announcing the theme of her Women of Power Fashion Show for 2022.She will also be accepting nominations for next year's Women of Power class that will walk at the Affair to Remember Fashion Show.
Lashanda Shaw, a local real estate agent and owner of Lashanda Shaw Realty, will also be speaking at the event. She will be focusing on her doctoral dissertation about the lack of women leaders in Cumberland County.
Suzy Hrabovsky, the Executive Director of CEED and the 2021 Woman of Power Alum, will also speak.
Brunch will be provided by Dorothy's Catering. The event will take place on Monday, Oct. 25 and will be at the Cape Fear Botanical Garden from 10 a.m. to 12:30 p.m. Tickets are $25 per person.
Tickets are available at https://www.eventbrite.com/e/women-of-power-brunch-tickets-172208800157 until Oct. 24.