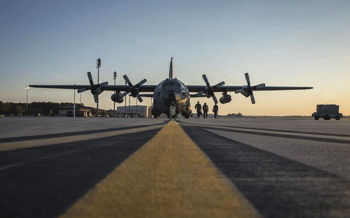 Expensive runway repairs at Pope AAF have been completed under budget along with improvements to the airfield electrical system, according to an Army news release. The project was budgeted at $100 million.
"Since World War II, Pope Army Airfield has served as a critical component of America's national security infrastructure," said Lt. Gen. Michael Kurilla, commander of the 18th Airborne Corps.
Until a realignment of military facilities a few years ago, Pope was a U.S. Air Force base. The Army said Fort Bragg units temporarily used civilian airports, including Fayetteville Regional Airport, during the repairs.
The main runway and taxiways were reconstructed with concrete instead of asphalt.
The airfield had not been "completely resurfaced" in more than 50 years, said Col. Joseph Vanoni, commander of the 43rd Air Mobility Operations Group.
The first aircraft to touchdown after the airfield reopened was an Air Force C-17 with Fort Bragg Commander, Col. Scott Pence on board.