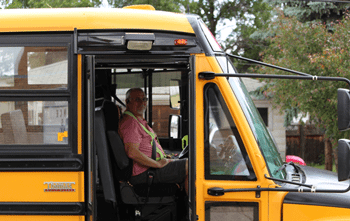 Cumberland County school bus drivers will share in additional system-wide bonuses being provided by the board of education. The school board decided on Nov. 17 to give the school district's 6,000 full-time employees $1,000 bonuses in December and again in May. Local bus drivers have been demanding better pay and have staged protests recently. More than 100 buses were idled two weeks ago because of a "sick-out" staged by drivers.
Starting pay for bus drivers in the school district is $12.21 an hour. A new state budget proposal includes a provision that the minimum hourly wage for non-certified school employees be raised to $13 this year and to $15 in the 2022-23 fiscal year. The state sets the baseline for pay in public schools, and some counties "supplement" those wages.
The Cumberland County school district used to have a competitive supplemental package, but education officials say they are falling behind.
"Determining the full cost (local, state and federal) of adjusting our minimum hourly salary to $13 or $15 ... is extremely complicated and if conducted internally could take an inordinate amount of time that we do not have given the state of the labor market," a memorandum released by the board said.
Drivers say they are frustrated over a stalemate between the Cumberland County Board of Education and the county commissioners. The Board of Education develops the budget, but county commissioners provide the funding.
"If you raise the pay for just one group, then you have many other groups within the district that did not get that same consideration," said Clyde Locklear, associate superintendent of business
operations.
Many North Carolina school districts are struggling to hire and retain workers because of low wages and working conditions many complain about. More than a third of Cumberland County Schools, 50,000 students, depend on bus services to get to school.