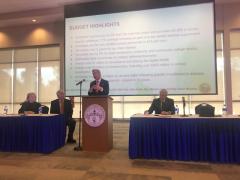 Collaboration was key to achieving a large budget for Cumberland County.
At a press conference at Fayetteville State University Dec. 1, Rep. John Szoka, Rep. Diane Wheatley, Rep. Marvin Lucas, Rep. Billy Richardson and Sen. Kirk deViere talked about the budget and how they were able to come together across political lines and parties and focus on Cumberland County residents first.
$412 million was allocated by the state to Cumberland County. More than $198 million will be going towards higher education. $64 million will support local government. $27 million will be used for veterans and the military. $19 million will be allocated the environment and natural resources. $11 million is being allocated to health care. $4 million will boost economic investment. Lastly, $87 million will go towards the funding of local projects.
Several of the elected officials said that this was a transformational budget for the county. Lucas said that after serving as an elected official for over a decade, this is the first budget he really felt proud of.
Richardson, the chairman of the Cumberland County Legislative Delegation, said that this budget did not happen by accident.
"We were the only delegation that stood together and said, we are going to put this state and this county first. We're not going to put the party first. We're going to put the state and our community first," Richardson said.
Despite some regrets on the state-wide level, locally many of the representatives agreed that the best thing to happen was getting this budget finalized for Cumberland County residents.
"I think everyone realized that with the opportunity of the amount of money that was here in the state, both from the federal dollars as well as additional dollars that were here at the state level, that this budget had to be a negotiated budget. It had to be a compromise," deViere said. "I believe, just like others around this table believe, that good government happens when you bring everybody at the table and they can have a conversation."
However, when it came to projects and line items left on the table, Szoka said that there weren't any that he can recall that were local.
"But we all coordinated with the commissioners, with the mayors and city councils and municipalities. And we talked to not-for-profits. We talked to economic developers and people, and most came to us with their ideas," Szoka said."There may have been something that's left out, but it wasn't for lack of any of us reaching out and trying to determine the true needs of the community."
Most of the funds are already in motion for use in the near future, like the bonuses for school teachers. Other funds may already be put towards a project or may have to wait until officials allocate it. When it comes to infrastructure and construction projects, it may be years until people see the outcome of those.
However, for the local delegation, one of the most exciting prospects is to see what will happen in the local community decades from now.
"Because of these projects and these programs, one day there will be a business that rises up in Cumberland County and will have an impact on this nation," Richardson said.