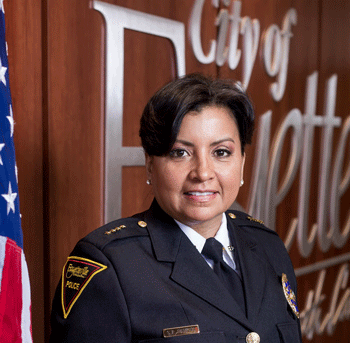 The Ethics Commission decided Thursday night that all allegations against Police Chief Gina Hawkins be dismissed.
This decision comes after three evenings of listening and hearing from witnesses, looking at the evidence, and talking amongst each other.
The initial 14 allegations were filed by Raleigh Attorney Mikael Gross, who forwarded Up & Coming Weekly the ethics complaint. The Ethics Commission looked at eight of those allegations.
The full list of allegations can be found here.
Hawkins denied the allegations when Up & Coming Weekly reached out to Hawkins last month.
"The so-called 'Ethics Complaint' is meritless and is knowingly compiled of false allegations," Hawkins's lawyer said in a statement last month. "Chief Hawkins is limited, for now, in her public response to those allegations as some pertain to FPD personnel/privacy matters. I am sure the so-called 'Petitioner' is aware of that fact as he released Chief Hawkins' responses to the media, knowing the legal position she is in as Chief. At this juncture, we are befuddled that a hearing would actually take place based upon the complete dearth of any evidence to support the allegations. We look forward to vigorously and aggressively addressing this 'Ethics Complaint' at the appropriate time."
The Ethics Commission has five members — lawyer, Tracey Henderson, CPA, Dale Knowles, lawyer, Dymond Spain, Dr. Stephen Rochman and Thomas Donnelly Jr.