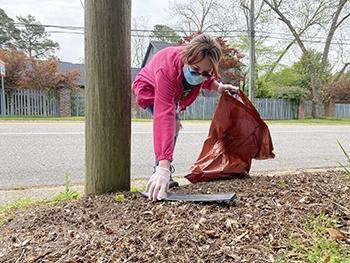 "Better Together" is the theme of this year's initiative to clean up Cumberland County.
Just in time for Earth Day and National Volunteer Week, Fayetteville Beautiful and Cumberland Clean invite volunteers to grab a pair of gloves and a few trash bags for some spring cleaning in Fayetteville on Saturday, April 23, from 8 a.m. to noon.
These events, which happen twice a year, have only grown in popularity since their establishment in September 2006. In the fall of 2021, the most recent event welcomed over 500 volunteers who picked up nearly five tons of trash from over 100 miles of Fayetteville's streets.
"The goal is to attract as many people as we can," said Jessica Howell, management analyst for the City Of Fayetteville Parks and Recreation Department. "This event is so important because we want to love where we live and take pride in our city. Litter is at an all-time high with the problem steadily growing."
For those willing to accept it, the mission is a fairly straightforward one. Volunteers can sign up as individuals or teams with supply pick-up between 9 and 11 a.m. Participants sign up to clean a particular area such as a neighborhood, street or stretch of highway and leave their haul in a designated area for pick up.
Fayetteville Beautiful and Cumberland Clean volunteers will receive a t-shirt, trash bags and water before getting started. For the first 100 participants, donuts and other goodies await.
As an added enticement, there will be a photo contest with a prize for those who snap a pic with the most trash bags.
When speaking about this initiative with Anna Chott, the Waste Management Project Coordinator at Sustainable Sandhills, words like "awareness" and "impact" came
up often.
"As an environmental non-profit, we want to be picking up less litter in twenty years," she said. "We've seen other cities and counties get control of their litter problem, and this is what it takes. Volunteers make a difference, but it takes awareness, litter pick-up, enforcement and education."
"We recently conducted a survey and learned that much of the litter in this area comes from open trucks and the debris that blows from them. Reusable containers, water bottles, grocery bags, all of those things make a difference," Chott explained.
Ultimately, these two events work as a call to action for the citizens of Fayetteville and neighboring areas to make this city the best it can be, which both women feel is at the core of the event's success.
"We work closely with Cumberland County, Spring Lake and Hope Mills, which have their events happening, and we're all spending this Earth Day weekend making our cities more beautiful," Chott said.
Howell echoes the sentiment, adding, "everybody from surrounding areas comes together to work toward the same goal: keeping our city and county clean."
To register online with Fayetteville Beautiful, visit fayettevillebeautiful.com. Group representatives should include the total number of volunteers in their online form. Volunteers should scroll down to the active map and select a clean-up location before registering.
To register with Cumberland Clean, email Tim Middleton at tmiddleton@co.cumberland.nc.us or call 910-321-6907.