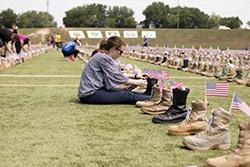 Memorial Day weekend is often considered a magical time, a time for barbecues, judicious application of sunscreen and the long-awaited re-opening of the local water hole.
But for many families across the nation, especially here on Fort Bragg, it is, first and foremost, a time to remember.
Fort Bragg Family, Morale, Welfare and Recreation, in partnership with Army Community Service, will host the Fort Bragg Run, Honor, Remember 5k on May 21, starting at 7:30 a.m.
This commemorative, family-friendly run/walk will occur at Hedrick Stadium on Fort Bragg and is open to Department of Defense cardholders and their guests.
A tradition started after 9/11 to recognize the ultimate sacrifice of those lost in combat zones during that time; the walk has only grown in popularity and significance since then.
The walk has been on hiatus since 2019 because of the pandemic, making this year especially meaningful for those coordinating the run.
"This is one of our favorite events," said Jennifer Fayson, special event coordinator, FMWR. I think it is so important to reflect upon how many servicemen and women have laid their lives down for us and remember the sacrifice of their families. It's especially important as we head into the memorial day weekend."
Over 7500 pairs of boots will be placed on the field at Hedrick Stadium to honor those soldiers who never returned home. The boots will stay on display for the entire Memorial Day weekend. It's a sight Fayson strongly urges people to come and experience for themselves.
"It's so moving to see them out there," Fayson told Up & Coming Weekly. "About 175 of them have been decorated by service members' families. I think that's my favorite part."
Home to over 500,000 active-duty soldiers, many families in the area know what it means to see a father, mother, son or friend walk out the door to serve their country. Many families also know that their loved ones' safe return is not guaranteed.
The Run, Honor, Remember 5k is a time when the community comes together to acknowledge that freedom has a cost and give thanks to those who pay it.
"Fort Bragg is a strong community and very supportive of our military in general," Fayson explained. "I love seeing the community come together. It's always such a large turnout because people want to show their support. They want to honor and remember soldiers who have given their lives in the ultimate sacrifice."
The event invites walkers, strollers, amblers and runners of all ages, fitness levels and abilities. There is no charge to participate, and no registration is required.
"It's open to anyone who would like to come," said Fayson. Family members, community members, spouses, kids—we invite everyone; it's a great event."
The pre-event ceremony for the Run, Honor, Remember 5k starts at 7:30 a.m., while the event itself is scheduled to end at 10 a.m.
Hedrick Stadium is located at Sedgewick Street on Fort Bragg.
For more information, call, 910-908-5977.