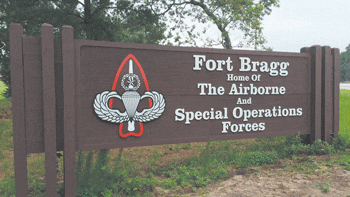 The prospect of a new name for Fort Bragg is getting mixed reviews from veterans and civil rights leaders in Fayetteville.
A federal commission tasked by Congress with recommending new names for military installations named for Confederate officers has suggested that Fort Bragg become Fort Liberty.
That's fine with Jimmy Buxton, president of the Fayetteville branch of the NAACP.
"It's somewhat mind-boggling that they came up with 'Liberty,'" said Buxton, who was invited to share his input when representatives of the naming commission visited Fort Bragg in the fall for feedback.
"I knew it had to be changed," Buxton said. "I think I can live with Fort Liberty - what 'liberty' stands for. And it's what Fort Bragg has stood for for years. It brings a pretty good meaning to Fort Bragg."
Buxton said he didn't have a suggestion for a new name, but one of the men whose name he would have liked to be seriously considered was Gen. Roscoe Robinson, the first African American to command the 82nd Airborne Division.
Retired Army Gen. Dan McNeill, former commander of the 82nd Airborne Division, said he thinks the commission chose wisely, considering all the suggestions it had.
"If you named it after a person, which person would you have picked?" he asked. "If you picked one, as opposed to groups of others, you would have left others behind."
McNeill said the commission spoke to a lot of diverse people while seeking feedback from the community.
"It was a good job of assembling a wide array of people," he said. "By the time the last meeting occurred, they all seemed to agree on 'Liberty.' A name is what caused this problem to start with. When someone said 'Liberty,' it made a lot of sense to me."
The naming commission announced its recommendations last week. They will be forwarded to Congress and, if approved, to Secretary of Defense Lloyd J. Austin III, who will have the ultimate authority to rename the installations.
Fort Bragg, with more than 53,000 troops, is home to the 82nd Airborne Division and Special Operations Forces.
The post, which opened in 1918 as a field artillery station, was named after Confederate Gen. Braxton Bragg, a North Carolina native. The Army artillery officer was known for his role in the 1847 Battle of Buena Vista, Mexico. He later served as a Confederate general and was a slave owner.
Troy Williams, a legal analyst and criminal defense investigator, said at this point, he doesn't see the renaming of Fort Bragg as a big deal.
Williams served in the Air Force from 1973 through 1977.
"I don't like the Fort Liberty name," Williams said. "It's not going to sit well with some people. At this point, this far into the game, it's a moot point … to change this because they were Confederate officers."
Williams questioned when all the name changing would end in a period of political correctness. He said some military installations are named after Union Army leaders who "slaughtered native Indians" and the buffalo they hunted.
"They were slaughtering these people. They've got stuff named after them," he said. "My challenge is, are we going to change everything?"
Williams doesn't like the proposed name.
"If we're going to come up with a name, at least make it a name that honors people," he said. "Fort Liberty – what the heck is that? We honored Bragg all these years, and now we can't honor another person?"
U.S. Rep. Richard Hudson, R-N.C., whose district includes Fort Bragg, has suggested that its association with Confederate Gen. Bragg instead be with Bragg's cousin, Union Army Gen. Edward S. Bragg of Wisconsin, as a compromise.
Most historians rate Edward Bragg as the better military leader.
William Greene, 59, the quartermaster of VFW Post 10630 in Hope Mills, served five years in the reserve before serving on active duty in the Army from 1985 to 2005.
Greene agrees with Hudson.
"To me, personally, I'd call it Fort Bragg after the Union guy," Greene said. "The Confederate general – they've got to get rid of that. All the Confederate history."
But changing the name would be costly, he said.
"You're talking a lot of money," Greene said. "I don't know how you'll raise those funds to rename the roads, all the signs. Keep it simple, anyway, so we can save money."
The name "Liberty" would reflect "all the things going on at Fort Bragg," he said.
"I'm just trying to save some money," he said.
Grilley Mitchell, 67, president of the Cumberland County Veterans Council, had a 20-year Army career that ended in 1993.
"You know what? They have already made the decision," he said. "I have no opinion. … They're going to do what they want to do. We just get in line with the marching orders. That's the reality of things. The military makes the decisions."
Mitchell said he's on record saying that the post should remain Fort Bragg but named for Edward Bragg.
"He was an ambassador, a true patriot for the Union," he said. "I thought there was a better option. Think of the money that was going to be saved.
"The young may call it Fort Liberty," he said. "For us, the old school, it will always be Fort Bragg. If you told anyone you were from North Carolina, they say, 'Fort Bragg.' They know Fort Bragg. This should be an opinion made by soldiers who served in the military and their families and not the politicians."
The federal commission recommended new names for eight other Army installations. Fort Bragg is the only one that would not be named after a person.