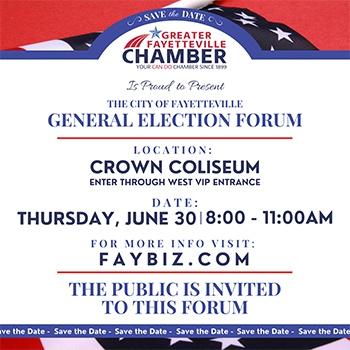 City elections are coming up, and the Greater Fayetteville Chamber wants to make sure people are informed before voting.
Tonette Johnson, the events coordinator for the Chamber, says the forum was the idea of the Chamber's Government Relations Committee Chair Eva Houston-Henderson, Chamber member George Breece and the Chamber Board's Chairwoman Tammy Thurman. Johnson said the three partnered together to build this forum and help get the information out to the community about the candidates.
"It was just a seamless decision because we're so already heavily involved in what's going on in the community," Johnson said.
The Chamber has invited all the candidates for Mayor and the nine city council seats to the forum.
The Mayoral Candidates are Mitch Colvin and Freddie de la Cruz. The city council candidates up for election include Kathy Jensen, Alex Rodriquez, Shakeyla Ingram, Tyrone Williams, Antonio Jones, Mario Benavente, D.J. Haire, Thomas Greene, Derrick Thompson, Peter Pappas, Larry Wright, Brenda McNair, Yvonne Kinston, Deno Hondros, Johnny Dawkins, Frederick LaChance III, Courtney Banks-McLaughlin and Michael Pinkston.
Candidates will not take questions from the audience at the event. Instead, questions have been submitted ahead of time by Chamber members, business owners and community members and will be vetted before being asked.
"We're not playing any games. We want to get to know the candidates. We want to know their agenda, what their plans are for the community," Johnson said. "We wanted to make sure that the topics that needed to be touched on, that needed to be heard, and it is a wide range of topics. However, we just kept it to our community's growth and development."
Johnson said most of the questions would be directed at all the candidates, but some will be explicitly directed toward the mayoral candidates.
Gary Rogers from Beasley Media Group will be the Master of Ceremonies during the forum. Rogers is a board officer with the Chamber and is an Ambassador for the Greater Fayetteville Chamber of Commerce. He will direct questions to the candidates and keep people on topic.
The forum will not be live streamed. However, it will be recorded and broadcast at a later date.
Other media outlets will be present, including Up & Coming Weekly, CityView Today and The Fayetteville Observer.
The forum will take place at the Crown Coliseum Thursday, June 30.
Attendees are asked to enter the Crown Coliseum through the West VIP Entrance to get to the event venue.
The free event will also have a continental breakfast.
Reservations are not required to attend. Instead, it will be first-come, first-serve for seating and food. The event starts at 8 a.m. and is expected to end around 11 a.m.